Who are QuickQuid?
QuickQuid are part of Enova International, a successful online lending and digital analytics company that operates 11 brands across six countries, including the UK and United States.
Headquartered in London, QuickQuid has provided over 1.4 million online short-term loans, of up to £1,500, to UK customers.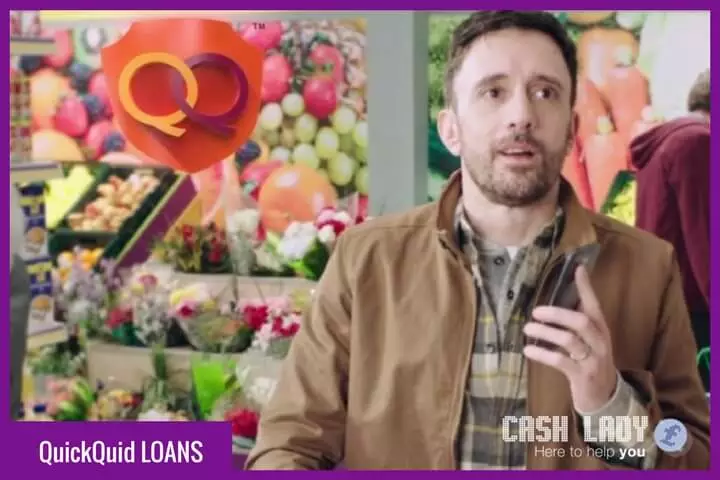 What is the duration of a QuickQuid loan?
QuickQuid loans have a typical duration of between one and three months. You can select the option that works best for you, depending on your own financial situation.
If you chose to repay after one month then the full amount that you borrowed, plus interest accrued, is due on your agreed repayment date, which is always the date you receive your monthly or weekly salary.
Opting for the two or three-month option means that you repay only the interest on the balance of your loan for the first one or two repayments. The full amount that you borrowed plus remaining interest is due on your final repayment. This means that your final repayment is always higher than the previous one(s).
Depending on your finances and whether your account is in good standing, you may also apply for a loan extension for up to two months, or a 'Top Up,' on your existing loan.
How much credit can you apply for?
If this is your first time applying for a loan with QuickQuid then you may apply for up to £1,000. Existing customers, who have previously taken out and repaid their loan, may be invited to apply for up to £1,500.
What is QuickQuid's loan application process?
The online application form should take only a few minutes to complete. You will be asked for simple personal and financial information, including your address, employment and regular income and outgoings.
In some cases, you are required to supply additional information, such as proof of your income, by supplying a copy of your payslip, however the information provided on the form is usually enough for your application to be processed.
QuickQuid aim to let you know their decision within 30 minutes of receiving your form, similar to what you could also get with CashLady quick loans alternative. You can also monitor the progress of your application by logging into your online account.
What are the requirements?
To apply for a loan from QuickQuid you should:
Have a valid UK bank account.
Be employed.
Be a resident of the UK.
Be at least 18 years old.
Tick five
How quickly will I receive my loan from QuickQuid?
If accepted, you can expect payment of your loan within as little as 10 minutes, depending on whether your bank accepts Faster Payments.
If your bank does not support Faster Payments, funds will be sent to your account the same day as your loan is approved so long as you receive your decision by 2:30pm.
What do QuickQuid charge?
You will be charged a daily rate of 0.80% on the amount borrowed, for the duration of your loan. QuickQuid loans have a Representative APR of 1294.1%.
How much will you repay?
Representative Example: Amount of credit: Representative Example: Amount of credit: £300 for 65 days with one repayment of £78.00 and one repayment of £378.00. Interest: £156.00. Interest rate: 292% pa (fixed). 1294.1% APR Representative.
Do QuickQuid charge penalties?
A Late Fee of up to £15 is charged if you fail to make your repayment on the agreed date.
Can I repay my QuickQuid loan early?
All short-term loans from QuickQuid have a minimum duration of 27 days, however beyond that you may repay your loan early to reduce the daily interest due on the amount borrowed.
Contact the Collections Team on 0808 234 4561 to make your repayment early.
Will QuickQuid run a credit check?
As part of the application process, QuickQuid will run a credit check, alongside an assessment of your loan affordability. Less than perfect credit doesn't necessarily mean that you will be turned down for a loan, as your credit history and current financial situation will also be considered.
What help and support do QuickQuid offer?
Customer Support are contactable by telephone or email seven days a week. It's also possible to live chat with them through the QuickQuid website with general questions, unrelated to your account.
They are available:
Monday - Friday: 08:00 to 21:00
Saturday - Sunday: 10:00 to 18:30
Where can you find online reviews of QuickQuid?
Reading online reviews from previous customers can help you decide whether QuickQuid is the right lender for you. There are over 1800 reviews of QuickQuid on Reviews.co.uk, providing insight into the company, it's loans and their customer experience.
What are QuickQuid's FCA registration details?
Like all reputable UK short-term lenders, QuickQuid is authorised and regulated by the Financial Conduct Authority. Firm registration number 673738. You can check these details for yourself on the Financial Service Register.
Applying with CashLady
Access a selection of quotes from suitable lenders, including QuickQuid, by applying for your short-term loan through Cashlady.
Here at Cashlady we use our in-depth knowledge of the market, plus our long-established portfolio of loan providers, to match you with the lender most suited to your needs. Simply complete our simple application form and we'll do all the hard work for you, providing rates and prices, repayment terms and other important details that will help you to compare loan options.
Here's a quick comparison table, highlighting the benefits of choosing CashLady rather than going straight to QuickQuid:
| | Cash Lady | QuickQuid |
| --- | --- | --- |
| Representative APR% | 1272 | 1294.1 |
| Loan Duration | Up to 12 months | Up to three months |
| Repay Early | Yes | Yes |
| Panel of Lenders? | Yes | No |
| Loan Options (Number of Lenders) | 15 | 1 |
Last Updated on 05 May 2019
How to contact QuickQuid
Customer Support
Telephone:
0800 056 1515
Email:
support@quickquid.co.uk
Correspondence Address:
QuickQuid
PO Box 74347
London
EC1P 1YZ
Related Articles about Quick Quid