What is a quick loan?
A quick loan is a form of short-term personal credit, built for speed and convenience. These products are designed to provide fast solutions for cash emergencies.
This type of unsecured finance is often suitable for those with relatively poor credit, as typically these are loans for small amounts of money and the loan periods are short.
How fast can I receive the money?
If your online loan application is successful funds are usually transferred the same day, particularly if you apply during business hours. When you receive your funds will be dependent on your banks policies and procedures.
Faster payments
If your bank supports Faster Payments, and you need the money today, cash can usually be transferred within the hour, often within 15 minutes*.
Before faster payments became available, it could often take 2-3 days for funds to reach customer bank accounts.
This meant that customers dealing with an urgent, cash emergency often had to deal with the stress of waiting to receive their money.
How much can I borrow?
If you apply to borrow cash via CashLady you can borrow anywhere from £100 - £5,000. If you are looking to borrow a large amount of money quickly, you should make sure your credit file is up to date to ensure you give yourself the best chance of approval.
In what circumstances would a quick loan be suitable?
These loans can often help manage short-term financial problems. These could include:
A vehicle breakdown
Needing to pay an unexpected bill
Urgent home repairs - such as a boiler breakdown or washing machine problem
An unexpected expenses
Breaking down the cost of a large purchase
Covering or contributing to the cost of a loved one's funeral
When should I not consider a quick loan?
As mentioned above, these short term loans can be suitable for temporary and emergency situations. However, there are some instances when a fast credit option isn't advised, including:
Repaying other forms of credit
Paying regular bills such as gas, electricity, water rates, TV license, council tax or rent
To pay a bailiff/company demanding payments
For entertainment purchases
For luxury or non-essential purchases.
If you feel you need help with your financial situation you can contact MoneyHelper or Stepchange.
Benefits of applying for a loan with CashLady
Fast online application process
Your application is sent to multiple lenders for consideration – better chance of finding a lender likely to accept your application, with no credit file impact
Quick loan approval decisions
Same day transfer of funds (in most cases)
Online 'e-signature' process (in most cases)
Early repayment without any fees (most lenders)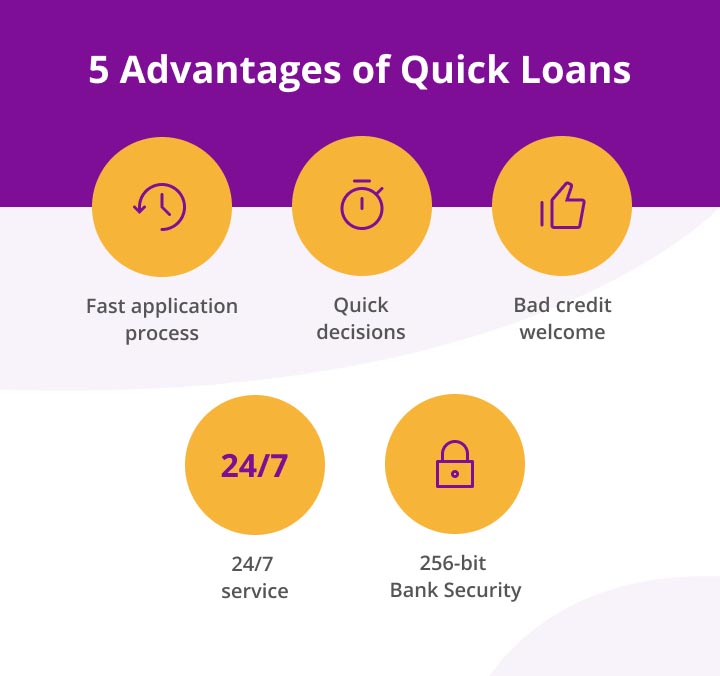 Who provides quick loans in the UK?
There are many providers in the UK today, both online and on the high street.
High-cost short-term loans are the most common type of fast convenient credit. However, numerous UK lenders now offer longer-term finance solutions using similar models. If you need a loan urgently, you will need to contact a lender or use a broker to help you find the right credit provider.
Credit brokers
Using a credit broker such as CashLady to find your loan can save you a lot of time and improve your chances of success. Instead of applying to each lender directly, you can just submit a single application through a broker.
Benefits of a credit broker
access multiple lenders at once, without the hassle of completing multiple loan applications.
instantly matched with the lender most likely to approve your application (saving time and energy)
protect your credit history by avoiding multiple credit searches
Direct Lenders
If you apply for a loan directly with a lender, you will have to complete an application form (usually online) and submit it directly to them.
If your loan is not approved by the lender, you will need to apply for a loan elsewhere and start the process again. Repeating this multiple times with multiple different lenders can negatively impact your credit score. This is one reason where using a broker such as CashLady to search for online loans is advantageous - as we won't submit a hard credit check as we search our panel for the lender most likely to approve your application. No hard credit check = no impact to your credit score.
It is worth noting that if we are able to find a suitable lender for your circumstances and you choose to proceed with this lender, they will run a hard credit check as part of their checks to ensure that you are a suitable candidate for their product.
There are a number of loan providers in the UK that specialise in providing fast financial solutions to UK borrowers. Always make sure they are authorised by the Financial Conduct Authority (FCA).
If you choose to apply with a lender directly, it is always useful to check your credit file first to make sure your details are correct. If there are any errors, it may impact the chances of your loan application being approved.
FCA Register
You can check direct lender company details on the FCA Register To make sure your credit provider is fully FCA authorised.
How does it work?
Finding a loan or a payday loan through CashLady is a simple process and it works like this:
You complete our short application form
We send your application to our extensive panel of lenders to find one that is likely to approve your application – this does not affect your credit score.
If we find a lender for you, we will redirect you to their website to complete your application with them. If you choose to continue with your application at this point, then the lender will need to complete a 'hard' credit check before they can approve the loan.
If the lender approves your application, then the money could be sent to your bank in minutes*
Fast application process
Completing an online application form is usually straightforward and means you should receive a speedy decision on your loan application (usually in a few minutes).
when you submit a loan application you will need to provide:
Loan amount
Personal details
Address
Residential Status
Employment Status
Monthly Income
Regular Outgoings
Bank account details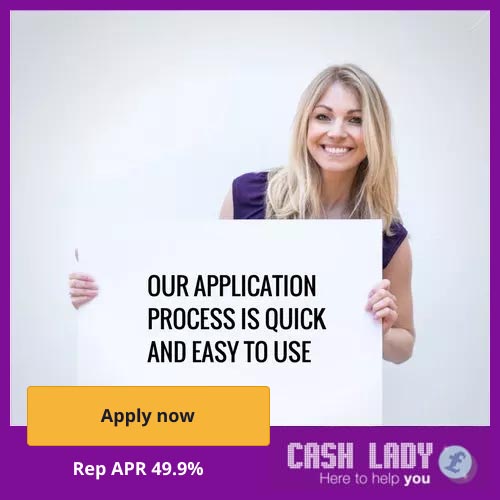 Underwriting
The information you have provided will allow the lender to assess your credit history and either make an immediate decision or ask for further information.
Loan decisions
When you apply for a loan you should receive one of three decisions from a lender.
Loan approved - You will be shown the loan amount, the interest rate, total interest payable and details such as the number of repayments, and the loan starts and end dates.
More information needed - The lender doesn't have enough information to make a clear decision and will need you to provide further information or commentary.
Declined - Unfortunately not every loan application is approved. If your loan is declined you should consider reviewing your credit file and potenially making steps to improve your credit score.
If you are declined it may be worth checking your credit history with a credit agency such as Experian.
Your credit report could help you to understand what may have affected the loan application outcome.
CashLady loan application process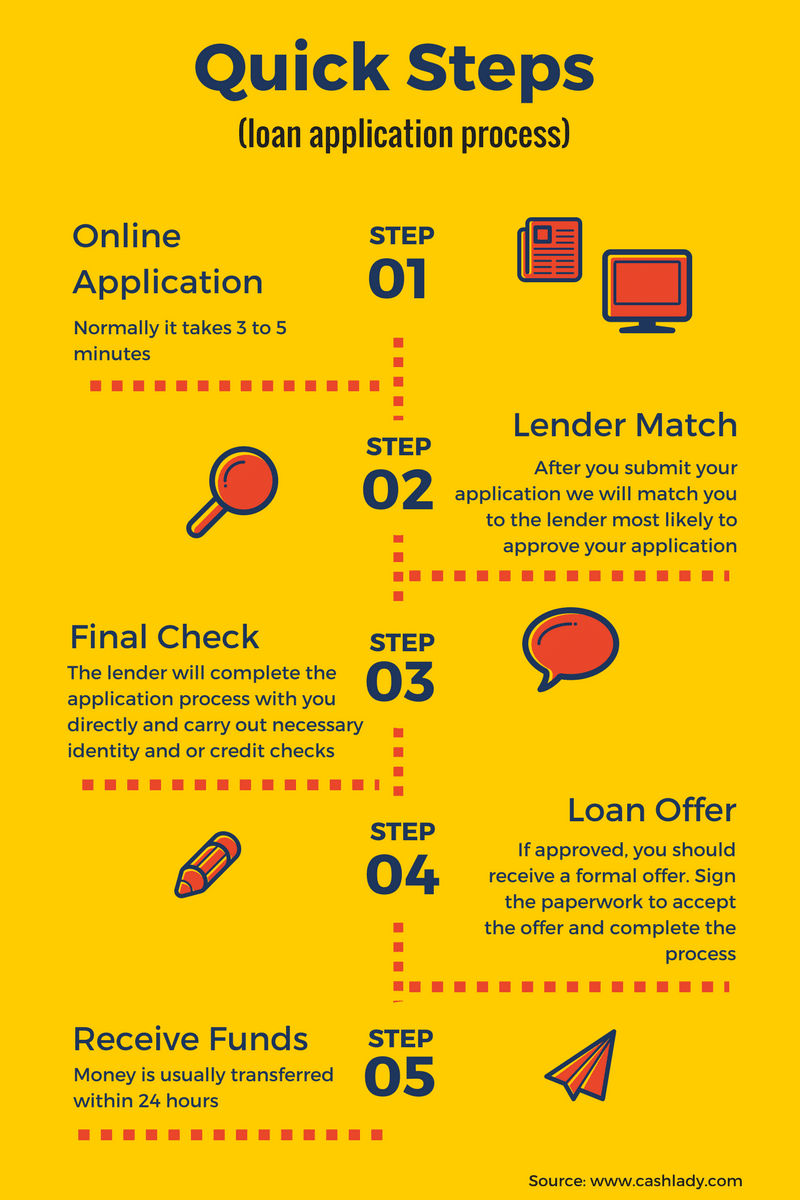 Loan Approval
If your application is approved, you may need to confirm a few details and you may be asked to show proof of your income with a payslip or bank statement.
You will need to sign your loan agreement before any money is transferred to your bank account. If you are happy with the offer, sign the agreement and complete the process.
It is a good idea to have your mobile phone to hand as you may also be sent a pin code to verify your electronic loan agreement.
For most of the lenders on our panel, everything can be done electronically. This means you will save time as you won't have to print off any documents, sign them and return them via post.
Once the lender has everything they need, the money is transferred directly into your bank account. Don't forget that regular monthly repayments will be taken according to the details in your loan agreement, so make sure you always have sufficient funds available.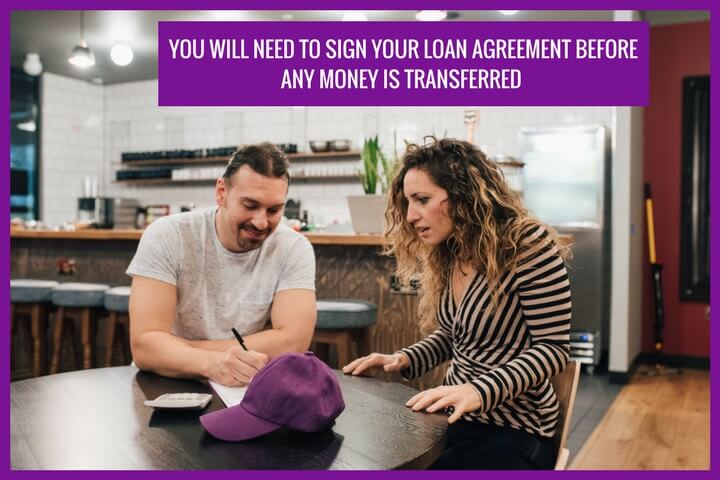 Can I get a quick loan if I have bad credit?
These loans are designed to get money to people asap so they can resolve a financial emergency. Unfortunately, many people with poor credit scores are those often in need of short-term financial assistance.
If you have a history of bad credit, lenders may be more cautious about lending to you, but most high-cost short-term credit providers set the interest rates of bad credit payday loans such that the additional risk is taken into account.
Will I need a credit check?
If you apply for a loan through CashLady and receive an offer from a lender, then they will usually have to undertake a hard credit check before the loan is fully approved. If you have many hard credit checks in a short period of time, these can indicate a higher level of risk to a potential lender.
Are quick loans secured?
No, most of these loans are unsecured, especially those conducted online.
Can I cancel my loan?
If you want to cancel your loan you have a 14-day cooling-off period from either the date the loan agreement is signed or, when you receive a copy of the agreement (whichever is later).
If you decide to cancel, you have up to 30 days to repay the money.
You can only be charged interest for the period you had the credit - any additional fees have to be refunded.
When do I have to repay my loan?
Any type of personal loan from an Financial Conduct Authority (FCA) authorised and regulated provider will give you a payment schedule detailing when each repayment is going out and what amount will be taken.
If you apply for a loan over a 6 month period, you will normally be expected to make your last repayment around 6 months after your loan was approved and the money was transferred.
You can usually make early or additional payments to speed up the process if you have more money available each month than expected. Paying a loan earlier will see the balance drop and the amount of interest paid reduced - so if you are in a position to repay more than scheduled each month, it may be a wise move. Always check the terms of conditions of your credit agreement before you make any early repayments as these could sometimes incur fees/charges.
Summary
Quick loans are there to help people urgently resolve a financial problem. When you don't have enough money in your bank account to sort out these situations it can be very stressful.
This type of loan normally has a higher interest rate than more mainstream loan products, so you should take your time to read through any documentation and make sure you fully understand the terms of your loan agreement.
Used sensibly, these loans can be a good way to make sure you resolve financial situations before they become stressful problems.