What is a short term loan for self-employed people?
A short-term loan for self-employed people is a loan provided to anyone who is registered as self-employed. Being self-employed has a number of great benefits, although managing your budget can prove difficult at times, as income is not always predictable. Some people may choose to apply for a short-term loan to help when a necessary expense crops up and they do not have the cash flow available to meet it.
Can I get a short-term loan if I am self-employed?
Yes you can is the answer, however the range of loans available to you as a self-employed worker may be more limited, as some lenders can restrict access due to lack of confidence in the borrower's ability to afford the loan. In addition to being self-employed, if you also have bad credit, you may struggle to borrow any money in a short-term capacity from a lender.
The good news is it costs nothing to find out if you may be eligible for a loan. Simply complete our short application form and we will match you with the lender from our extensive panel most likely to approve your loan request.
What can self-employed loans be used for?
Some of the reasons you may want to request a short-term loan include:
Paying for an unexpected cost at home, such as a broken boiler
Necessary vehicle repairs
Helping you pay bills while invoices are cleared
Even if you have bad credit, you may still able to apply for a loan through CashLady. After completing our application form, we will match you with the lender most likely to approve your application, helping your chances of securing the loan you need.
Who is eligible for a short term loan for the self-employed?
In order to be apply for a short term loan you should be:
At least 18 years of age (some lenders limit your maximum age)
Have a valid mobile number and email address
Currently be a legal UK resident
Own a UK debit bank account
Be working part or full time and have a regular income (£700 per month is a typical minimum although this depends on the lender)
The email address and mobile number is to enable the lender to contact you directly so there are no delays in processing your application. If successful they can send the loan agreement to your email for you to read, sign and return, which will ensure you receive the funds much faster.
Lenders require an active debit account so funds can be transferred across to you. It also makes the collection of the monthly payments much easier and hassle-free for the person borrowing the money, ensuring the loan is repaid on time.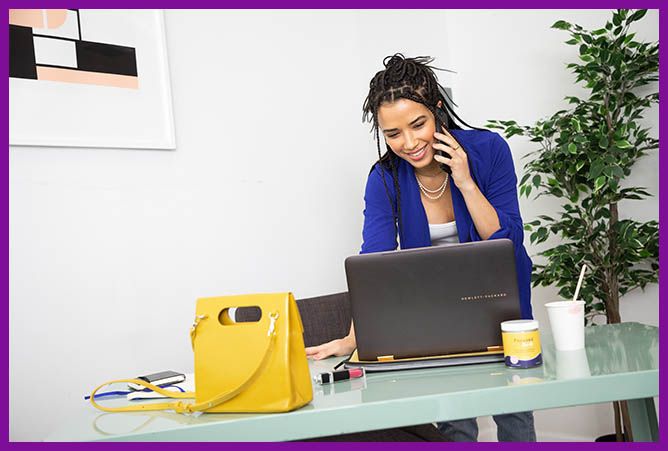 Will there be a credit check?
When making an application with CashLady we do not carry out any credit check that will have an impact on your credit score. We run a "Soft" credit check which is only visible to you on your credit file. This offers an advantage over going direct, as it means your rating is protected during our application process.
If a suitable lender is suggested and you decide to proceed with the application directly, you will undergo a full credit check with the lender, which can impact your credit rating. The lender may also request additional information to verify your ID and proof of income.
What proof of income would I have to provide?
As a self-employed worker, lenders may want further assurances that you can afford the proposed loan and can repay it without falling into financial difficulty. This can include things such as:
Tax returns (for the most recent tax year)
Bank statements (covering a certain period)
What if I have a poor credit score?
If you are self-employed and have a poor credit score, you can still apply for a short-term loan. As with any loan, you will have to undergo a full credit check before you can be offered the money, but the lender will assess your application on its own merits.
The lender will not only look at your credit score and credit history, but also your current financial status and ability to repay the proposed loan. In addition to providing your name and address, you will likely also have to submit tax returns and bank statements, along with your business details.
Anyone with a poor credit score – whether self-employed or not – will likely have to pay higher interest rates than someone who is deemed to have a good credit score. Before signing any loan agreement, always be sure you can repay the amount and that you are comfortable with the terms.
How much does a short term loan cost?
This will depend on how much you want to borrow from the lender. In addition to the base loan amount, interest will also be applied.
Most lenders provide a calculator which gives you an estimation on how much a short term loan will cost before you make an application. As this is provided before they perform a credit check, they will use an advertised APR rate, which may not reflect the rate offered to you if your application is successful.
How much interest will I have to pay?
The maximum interest you can pay a day is capped at 0.8%, as set by the Financial Conduct Authority (FCA). If a lender asks you to pay more than this you should look for a loan elsewhere.
Every company featured in the CashLady panel of lenders is FCA authorised and regulated.
The interest rate is an important part to take into consideration. Once you have a full quote provided by the lender, always ensure you can comfortably afford the instalments each month and across the full duration of the agreement.
How to apply for a short term loan
Credit brokers
The first option is to use a credit broker (note that CashLady is a fully authorised and regulated Credit Broker and not a lender).
With a credit broker, all you have to do is submit a single application and the broker will present the loan option most likely to succeed, which not only saves time but also increases your chances of securing the short-term loan you need.
If you have been given a loan option after submitting your application, you can then choose to proceed with the application directly with the lender.
You can start your application with CashLady today and receive a fast decision within a matter of minutes.
Direct lender
This involves submitting the application on their website which will be sent directly to their internal decision makers. They may accept your application and offer a loan, which is great news, and they may also reject the application.
If you are not successful, you will have to try again with another company, although receiving a number of rejections could negatively impact your credit score. These will be recorded on your credit file and other lenders may see this on your credit report and believe you are too much of a risk to lend to.
As an online broker, CashLady can help avoid this outcome. We match you with the most suitable lender based on your individual information, with only a soft credit check performed in the first stage of the application. This will not have any impact your credit score and gives you more control over whether or not you wish to proceed and undergo a full credit check with a lender, which can affect your credit score.
Before making an application with a direct lender, request a free copy of your credit report so you are aware of your current rating and status.
Does a short-term loan affect your credit score?
The act of simply taking out a short-term loan does not negatively affect your credit score. The only time your credit score can be negatively affected by a loan is if it is not repaid on time. If you repay the short-term loan as stated in the agreement, it could have a positive effect on your credit score as lenders and credit agencies will see that you are managing your money which could benefit your overall rating.
This is why if you are struggling to repay a loan on time it is important for you to get in touch with the lender as soon as possible. Not only can defaulting on a loan affect your credit score, it could make it more difficult to secure credit at a later date. Once you have told the lender about your situation, they should try to work with you find a solution that will enable you to repay the loan.
Can I change my mind about the loan?
If you agree to take out a short-term loan with a lender and change your mind, you can cancel the agreement within the first 14 days.
This is known as the 'cooling-off' period that comes into effect either from the date you signed the agreement, or when you received a copy of the agreement (whichever date is later).
Once you inform the lender of your decision to cancel you then have 30 days to repay the money in full. You should be aware that the full amount also includes any interest you were charged for the period you had the money. If there are any additional fees attached these must be refunded to you.
Are self-certification loans good for self-employed workers?
Self-certification loans are also called self-certificated loans and can seem like an appealing option to some self-employed workers.
These loans are products that do not require you to show any proof of earnings. This can be tempting to some self-employed people who have not yet worked a full tax year, or who are not able to provide the documentation needed to show their current income.
However, these are high-risk loans that can put you in a difficult financial situation, usually offered by loan sharks. Self-certification lending was banned in the UK by the FCA after the 2008 financial crash saw many people struggle to repay their self-certification mortgages, often falling into high levels of debt.
If you have had financial difficulties in the past that have negatively affected your credit score, CashLady may be able to help. Some of the authorised and regulated lenders on our panel can offer loans to people with bad credit, based on the lender's criteria.
You can make an application through CashLady without affecting your credit score to see if there is a suitable lender who may be able to offer you a loan.
Summary
Short-term loans for self-employed people can offer much needed respite in difficult financial periods. Many people who are self-employed experience periods that are busier than others and it can be quite stressful worrying about where the next job is going to come from.
While a short-term loan can offer a solution, it is important to remember that they will usually have a higher rate of interest compared to long-term loans offered by high-street lenders. Before agreeing to take out this type of loan always be absolutely sure you can afford to repay it in full.
As long as you have a good financial plan, and can comfortably pay the monthly instalments, a short-term loan could be answer you are looking for.