What is a home improvement loan?
Taking out an unsecured home improvement loan enables you to borrow a fixed sum of money that can be used to improve parts of your property. For example, the loan could be used to renovate a small bathroom or to redecorate the living room. The money allows you to pay for materials and contractors who will be working on the project and is repaid to the lender in instalments across a fixed period.
At CashLady we can help you secure an unsecured home improvement loan of up to £10,000 that can be used to make planned alterations. An unsecured loan will not require you to put up any collateral such as your car or house, instead your credit history helps the lender assess the risk level involved in offering the loan.
Why should I take out a home improvement loan?
Investing in home improvements can add value not only to your lifestyle but also to market price of your property. Being able to expand your living space or upgrade the infrastructure makes it a better place to live for your family and if you are thinking of selling in the future you could receive higher offers as a result of the changes you have made.
Moving home can be expensive, so it may not be an option for everyone. Home improvements could also allow you to make the most of the property you own and can be a cheaper and more convenient alternative to selling and looking for a larger property elsewhere.
It is important to be aware that home improvements can sometimes be quite costly, so you should always thoroughly review your finances to ensure you can afford to take a loan. Also check that the changes you want to make to your property will add enough value to make the loan a worthwhile investment.
What should I consider before taking out a home improvement loan?
Taking out a home improvement loan could help you make the changes you need to your home. However, there some things to be aware of before making a final decision such as:
Finalise how much you want to borrow: Tally up the total cost of the alterations, including materials, labour and VAT to ensure you only borrow what you really need. Have a maximum amount you can afford to loan and see what is possible with that number.
Organise your finances: Take a look at your income and outgoings to see what you can comfortably afford to repay each month. The repayments will also include additional interest, so take into account that while extending the repayment period will reduce the amount you pay each month, it will also increase the overall amount of interest you pay.
Check your credit score: If you have a low credit score you may be rejected for a home improvement loan. The higher your score, the more likely you are to be offered better terms. You can get a free copy of your credit report from Equifax, Experian or TransUnion.
Ensure you are eligible: Loan applications that are rejected will have a negative impact on your credit score, so it is helpful to have a better understanding of your choices. Starting your application with CashLady doesn't require you to undergo a full credit check and could mean you are matched with a lender more likely to offer you the loan you need.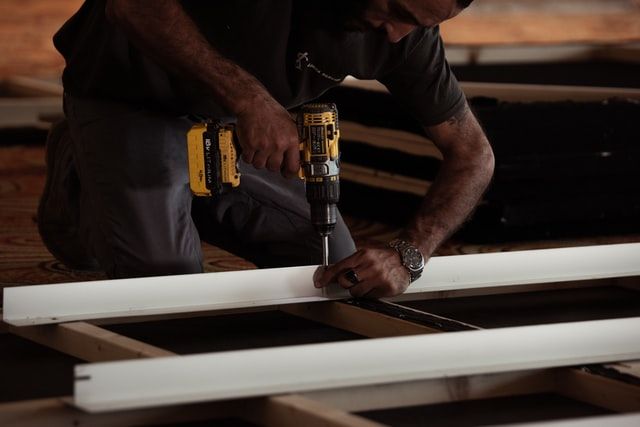 If I have bad credit can I get a home improvement loan?
If you have bad credit it is still possible to secure a home improvement loan and CashLady may be able to help. Our panel of authorised and regulated lenders includes companies who specialise in offering loans to people with a poor credit history, and depending on your score and financial circumstances they may be able to offer terms that you can afford to repay.
When you start your application with CashLady we share the information with our lending panel who will then decide if offering a loan is in your best interests. They want to ensure you can comfortably afford to repay the full amount plus interest and not put yourself in financial difficulty that could further damage your credit score.
When you complete the application form on the CashLady website it will not have any impact on your current credit score. We only use it to help find a lender most likely to offer you a loan. If you are offered a loan and continue the application directly with the lender, they will request further information and carry out a full credit check that could affect your credit rating.
Your credit score will influence the amount of money and repayment terms offered to you by a lending company. If you have bad credit it could mean you pay a higher amount of interest on the loan compared to someone with a better credit score. You may want to consider improving your credit score before applying for a home improvement loan as it could help you secure a better deal.
What can I use a home improvement loan for?
A home improvement loan can be used to change and improve many different aspects of your home. Some of the most common include:
Emergency repairs: Broken boiler, leaking roof, electrical problems – all are issues that you will probably need to resolve as soon as possible. A small loan can help you get these critical jobs completed quickly even if you don't have the funds up front to do so.
Re-decorating: A coat of paint can make a big different to the way you look at your home. Whether you want to change the colour of just one or every room, the atmosphere is instantly changed. And if you are thinking of moving home adding a lick of new paint can help sell it to prospective buyers.
Carpeting or flooring: Dirty or worn carpets can be quite off-putting for prospective buyers, so new carpets throughout your home can provide an immediate positive impression and could help you sell your home more quickly. Likewise, quality wooden flooring has been shown to add value to a property so may be something to consider.
Small bathroom renovation: Whether adding a new sink, changing the fixtures and fittings, or installing a new shower, upgrading a small bathroom could also add value to your home. Bathrooms are one of the key selling points of any domestic property and a small renovation could help improve the value.
Re-plastering: Another great low-cost home improvement you might want to consider is re-plastering the walls. If you want to move away from wallpaper, you'll need a smooth new surface to paint on. It's relatively simple to do and you don't need to be a DIY expert to produce a nice finish.
Garden makeover: Gardens have become more important than ever and whether it's for entertaining purposes, or just to make the space more welcoming, a garden makeover will allow you to get more out of your property during the warmer months of the year.
Loft board-out: If you have an unused loft you don't have to spend tens of thousands converting it into a living space. Boarding the floor makes it safer to access and allows you to store boxes and unused items safely, giving you much more space in the rooms that matter downstairs.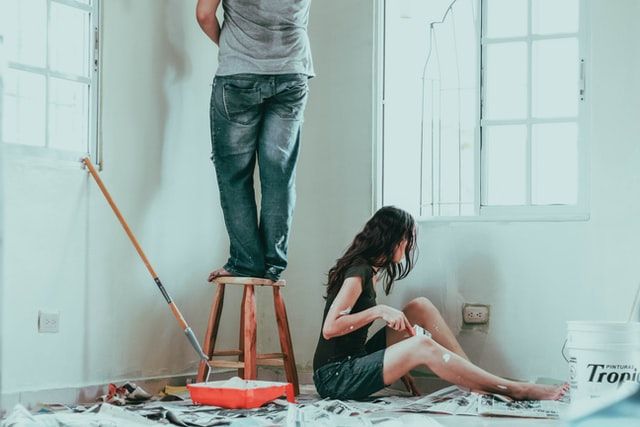 What if I want to make bigger changes to my home?
Home improvements can be anything from creating a feature wall in the bedroom to building an extension or converting a garage. This also means that costs can vary quite a bit and if you have designs on larger and more expensive renovations, such as a full kitchen replacement or building a conservatory for example, you might want to look at other loan options.
At CashLady we can help you secure an unsecured loan of up to £10,000 with one of our approved lenders. Large scale renovations like a loft conversion could cost in the region of £20,000 which may mean that you need to look elsewhere.
You could consider a secured loan, which requires you to put up collateral as security against the amount you want to borrow. It is common for people to use their home as security which allows them to secure a larger amount of money.
If you take out a secured loan you must be aware that not keeping up to date with your repayments could lead to you losing your home, or any other collateral, such as your car. While taking out a secured loan allows you to borrow more, the risks are also much greater if you experience financial difficulty.
How can I lower the cost of home improvements?
Initially, carrying out home improvements may seem too expensive for you to consider. With a little creative thinking there are ways you can reduce costs to make it more affordable. You may want to consider:
Getting at least 3 quotes: If you are hiring professionals for the job, get at least three quotes to compare. This allows you to choose a company that not only offers a fair price, but who you also believe will act professionally and produce the best results.
Plan your costs: Whether it's painting a single room or doing a garden makeover, make a list of the tools and materials you'll need. You may be able to borrow some from friends and relatives. Also compare prices online and look for deals and discounts that can help bring down costs.
Do it yourself: Where possible it might be a good idea to carry out DIY work, so you don't spend too much on contractors. Things like plumbing or electrics are best left to professionals but decorating and landscaping the garden is something you can learn.
Are there any alternatives to taking out a home improvement loan?
Before you apply for a home improvement loan you may want to consider alternative ways of raising the money you need. This could include using:
Savings: Even if you do not have the money to hand in a savings account you could take time to put money aside to build up enough money for the home improvement project. This means you do not owe money to a lender and are in full control of your cash.
Credit card: Low or zero interest rate cards are the best option, which enables you to repay only the amount you borrowed without interest charges. The interest-free period is usually only available for a certain period, so the money will have to be repaid before it ends. Credit cards may also not allow you to borrow as much as a loan could and you may need a sufficiently good credit record to quality for the lowest rates.
Overdraft: You may be able get a bank account overdraft that is interest-free for a certain period, or only charges a low APR. If going the interest-free route, make sure you can repay the money before charges are applied. Also ensure there are no hidden fees or charges that could add to your costs, even if the overdraft is zero interest or has a low APR.
How can I get a home improvement loan?
To start your application for a home improvement loan with CashLady, you must first ensure you are eligible. That means you must be at least 18 years old, be a legal UK resident, hold a current bank account and debit card and have a regular monthly income.
If you meet the above criteria and want to enquire about a loan, complete our online application form and we'll match you with a lender most likely to offer you a loan. It's important to be as honest as possible about the information you provide and the reason you want to borrow the money as it will help us provide more accurate results.