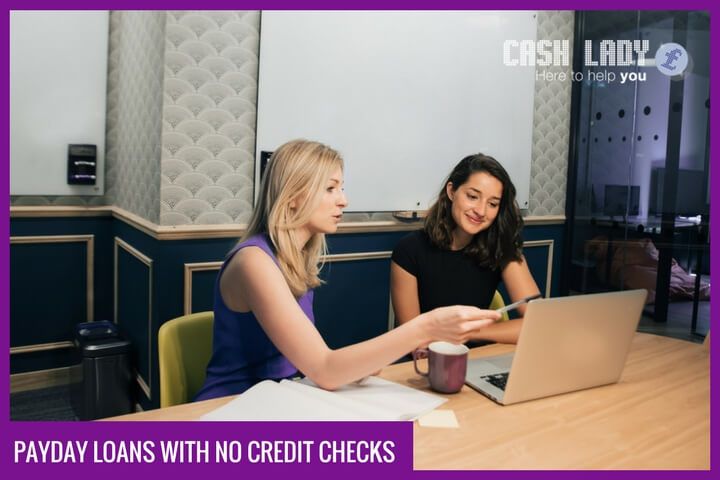 It is completely understandable why some people may be reluctant to undergo a credit check. If you have a poor credit history or have made some financial mistakes in the past, then you may be concerned that a credit check will result in your loan application being declined and your credit scored being damaged further.
The positive news is that there are lenders on our panel that specialise in offering bad credit payday loans to those with poor credit. Also, our application process enables you to check if a lender is likely to accept your application or not, without hurting your credit score. We do this by carrying out a 'soft search' on your credit file. You can find out more about credit checks and soft credit searches below.
What is a credit check?
A credit check is a review of financial information that is held about you by one of the three UK credit reference agencies – Experian, Equifax and Transunion.
This review helps prospective lenders see how you have handled credit in the past and gives them an indication of how likely you are to repay your loan and therefore how much a risk you would be to them, should they choose to lend you the money requested.
It is important to note that there are two different types of credit check. A soft credit check and a hard credit check – the difference between each of these is explained below.
What are hard credit checks?
A hard credit check is when a lender reviews everything on your credit file.
This is the type of check a finance provider, bank or building society will use if you are applying for credit. They look at nearly every type of account that you have where you make regular payments, for example, credit cards, mobile phone bills and mortgages.
They check your credit file to see if you have missed any payments. They can also normally find out what your overall level of debt is (that is, both your unsecured debt and secured debt like mortgages).
Hard credit checks stay on your file for 12 months although some, such as debt collection checks, can stay on your file for longer. Every company who looks at your file can see who performed those checks and why.
What is a soft credit check?
A soft credit check is an enquiry into your credit file to look at certain information on your credit report.
Companies perform soft searches to determine how successful your loan application would be without needing to conduct a 'hard' credit check.
It is like a background check to get a quick indication.
Soft searches are not visible to other companies which means they have no impact on your credit score.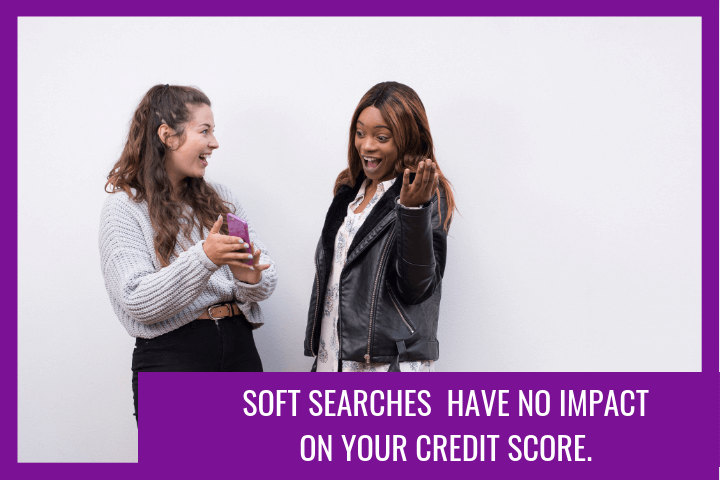 What does a lender look for?
The information a lender will typically look at when conducting a credit check includes:
All of the loans, credit cards and mortgages that you currently have open, or have closed at any time in the last six years
Any overdrafts on your bank current account
Details of previous occasions on which you have missed credit repayments
Details of previous County Court Judgements (CCJs)
Any previous bankruptcy
Together, this information makes up your 'credit history'.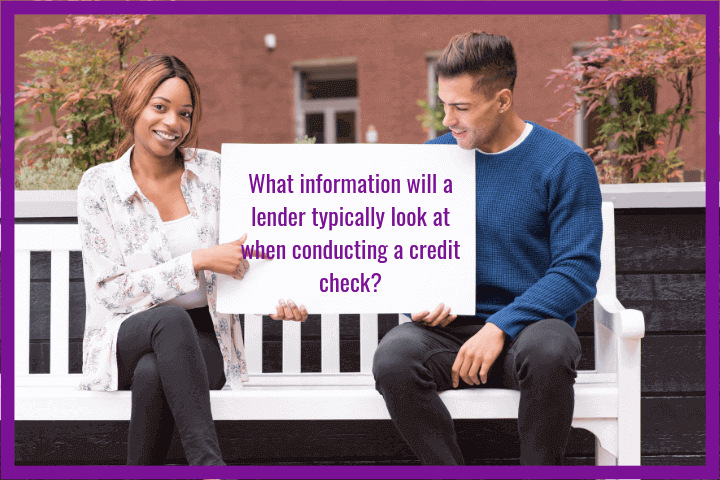 Can I get a loan without a formal credit check in the UK?
In the UK, no lender should offer a loan without conducting a 'hard' credit check - to do so would breach the regulator's rules. The regulatory environment for short-term finance in the UK has become stricter in recent years - for example there are now restrictions on:
The interest rates a lender can charge
The number of times a loan can be re-financed
The amount a lender can charge you in fees should you default on the loan
Companies that fail to comply with the rules can be fined, or ordered to compensate customers that they may have treated unfairly. In serious cases, the regulator can withdraw a firm's permission to act as a lender.
If you have a complaint regarding your lender, you can refer the matter to an independent adjudicator at the Financial Ombudsman Service. The Financial Ombudsman has the power to force financial companies to pay compensation to any customers it may have disadvantaged.
This strict regulatory environment should provide you with re-assurance. If you do business with an authorised and regulated lender, finance provider or credit broker, then you are dealing with a company or organisation that is subject to a wide-ranging series of rules and guidance, and which has a legal obligation to treat you fairly at all times. One of the regulator's operational objectives, laid down by law, is to 'secure an appropriate degree of protection for consumers'.
Still, this does not mean you cannot get a loan quickly. Technology and data analytics help lenders reach a quick decision regarding affordability and risk when underwriting a loan.
Should I consider a no credit check loan?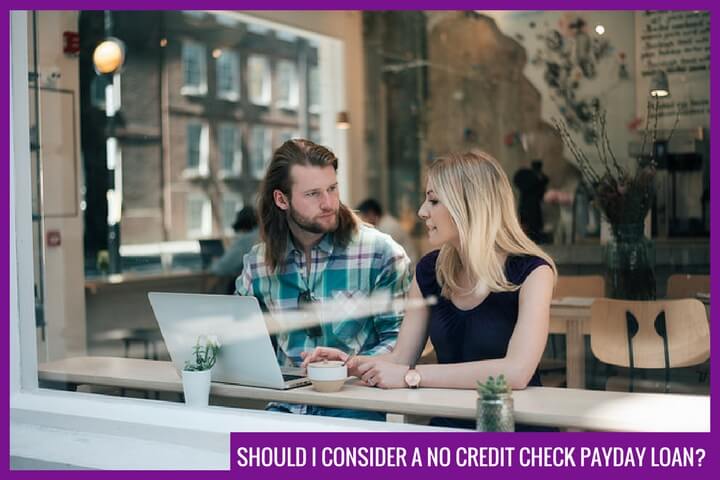 If you are dealing with a lender that is offering a no credit check loan, you should avoid them at all costs. Any finance provider that suggests it can provide a loan without a credit check will be breaking the rules set out by the Financial Conduct Authority (FCA) and is likely offering to lend money illegally. As a consumer you will also not be protected by the FCA.
Are no credit check payday loans legal?
Lenders must carry out some form of credit check before reaching a decision on an application for credit. Unsecured loans including payday loans are regulated by the Financial Conduct Authority (FCA), whose rules state that appropriate credit checks must be carried out on all applicants.
If you are dealing with any person or company not authorised or regulated and authorised by the FCA you should not enter into any form of credit agreement for your own safety.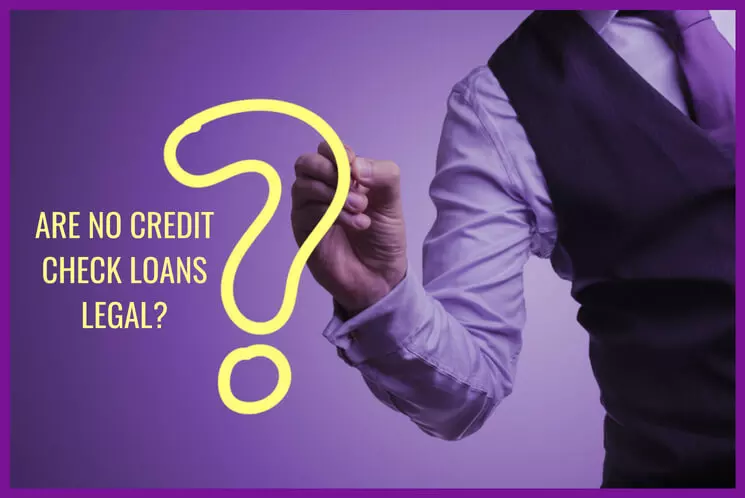 Are no credit check payday loans safe?
In a word, "No".
We would only consider a loan to be 'safe' if the credit provider is authorised and regulated by the FCA and if you can comfortably make the required repayments.
No lender should offer you an unsecured loan if they have not first carried out a 'hard' credit check, as to do so would involve breaching the FCA's rules and would put you at risk.
If a company indicates that it is prepared to grant you a loan with no credit check, then it may suggest that the company is not actually authorised or regulated by the FCA, and is therefore operating illegally.
If you were to choose to do business with an unauthorised and unregulated company, then you would have no legal protection were things to go wrong. You would also be unable to refer any complaint about that company to the Financial Ombudsman Service. Before you deal with any financial services company, you can check if they are authorised and regulated on the Financial Services Register.
CashLady is authorised and regulated by the FCA to act as a credit broker, and we only work with lenders who are also authorised and regulated by the FCA, so you can be confident that any loan acquired via our site is 'safe'.
Why is a credit check important?
Credit checks are important because they safeguard customers from poor credit decisions and avoid any unaffordable credit obligations. Credit checks are important for lenders so they can minimise any risk of bad debts.
The credit checking process is used by lenders to determine the level of risk involved with lending money to you, and whether you are likely to be able to make the required repayments, and repay on time.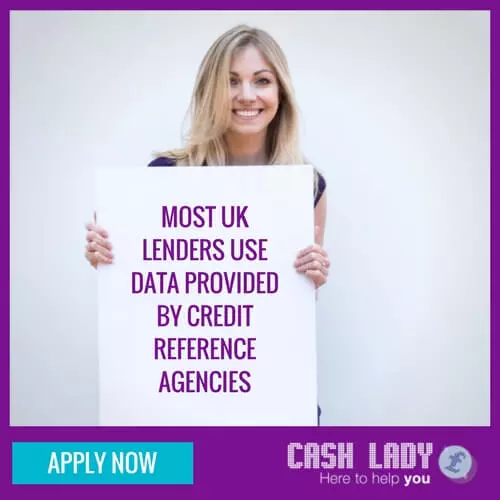 When you apply for a loan, the lender will pay a fee to access your credit record. Records of your personal credit history may be held by any of the three main credit reference agencies in the UK: Experian, Equifax and Call Credit.
There are usually two steps involved in checking your credit file. The first one is usually a soft online check to identify you, prevent fraud and check the level of risk and affordability of the loan. After initial approval there is a second step, before the actual lending that involves a more in-depth check were the lender must absolutely make sure you can afford your loan. They also want to make sure they can contact you in case of issues. This is known as a 'hard' credit check.
The following information is included in a credit check:
Electoral roll information – used as evidence of your current and previous addresses
Loans, credit cards and mortgages that you are repaying at present, together with any such debts you have paid off within the last six years
Any current account overdrafts
Details of how frequently you have missed repayments on credit products
Any previous bankruptcy or County Court Judgements (CCJs)
Any details of when your identity might have been stolen for fraudulent purposes
Credit checks also consider the record of anyone with whom you have a financial link. For example, if you have a joint account with your partner or anyone else, and that other person has a poor credit history, then this could adversely affect your own chances of being accepted for a loan. This is because the lender may assume that you pay the other person's bills, and that this could place additional strain on your own financial affairs.
All of this information is used to determine your 'credit score'. This can be anything between 0 (very poor) and 999 (very good), according to Experian (but these scores may differ depending on which credit reporting tool you use). Some lenders may automatically reject any applicant whose score is below a certain level.
Any 'hard' credit check that is carried out on you will leave a 'footprint', i.e. there will be a mark on your credit file showing that a check has been carried out. If a lot of checks are carried out on your file within a short space of time (6 months), this could harm your chances of being accepted.
Can I perform a credit check myself before applying?
You can always contact any of the credit reference agencies to check your credit score. You will be able to do this without adversely affecting your score.