What is an emergency loan?
An emergency loan may be able to offer a fast solution to an immediate financial issue you are facing. If the borrower does not have the funds to cover an unexpected expense that needs to be paid quickly, an emergency loan may be able to help in the short term.
The amount you can borrow for an emergency loan through CashLady ranges from just £100 right up to £10,000.
How does an emergency loan work?
An emergency loan can give you access to money quickly, as long as you are eligible to apply. You can complete our short and simple application form online and we will search our panel of lenders to direct you to the lender most likely to accept your application.
If you choose to, you can then complete your application with that lender and if successful, the money could be sent to your account in minutes* allowing you to resolve your financial emergency.
What are the eligibility requirements?
One of the advantages of applying for an emergency loan through CashLady is that you are guaranteed a fast decision, so you know where you stand almost right away. The process of making an application is straightforward, requiring you to submit only a few details before being directed to the lender most likely to accept your application. This includes information such as:
Name and address: This is to help verify your identity. You must also have a valid email address and mobile number.
Age verification: The minimum age you can be to secure an emergency loan is 18 (some lenders also limit how old you can be).
Employment status: You will need to be in full or part-time employment earning a regular amount of money each month.
Bank account data: You must have a valid UK bank account in order to apply for an emergency loan.
Residential status: Anyone applying for an emergency loan must be a legal resident of the UK.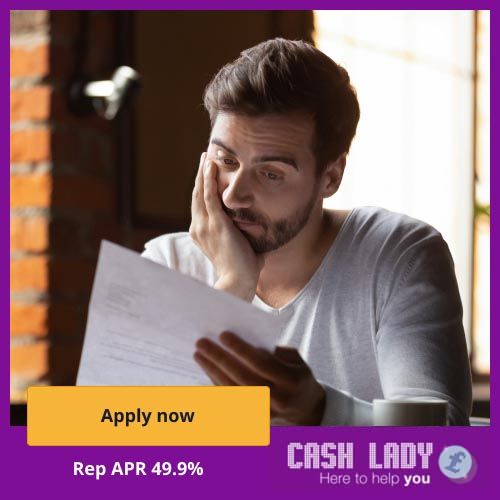 What are the different kinds of emergency loans?
There may be various different ways to secure money in an emergency. These include:
Short term loans: These are the loans provided through CashLady and can be used to secure an emergency cash lump sum. Lenders will assess your credit score and repayment history, which will influence the loan terms they will be able to offer.
Payday loans: Payday loans are short term loans that give you fast access to a relatively small amount of money. These are usually required to be repaid by the time you receive your next wage. You won't be offered a payday loan when applying through CashLady.
Credit card loans: A cash advance can be made available by a credit card company, although the associated fees and interest rates can be very high.
What is an emergency loan suitable for?
An emergency loan is suitable for a wide range of unexpected costs that you have to pay for. This can include things such as:
Vehicle repairs: Many families rely heavily on their car to get to and from work and to take their children to school, as well as visiting relatives and for important errands such as shopping. An unexpected breakdown can be costly, and more than your regular income can cover, so seeking an emergency loan for a car repair may be a suitable solution.
Home repairs: Home repair bills often arrive out of the blue, whether it's a boiler failure, broken window or a leaky roof. You will likely need to get these fixed as soon as possible, especially during the colder months of the year, as leaving them in disrepair for too long could create even more damage. Applying for an emergency loan may be able to help pay for an unexpected cost such as this.
Travel: If a family emergency occurs it often requires people to travel to other areas of the country, or even abroad, in order to attend to the situation. There is no way of knowing when something like this can happen and finding the funds to pay for unexpected travel costs can prove difficult. If you are successful in securing an emergency loan, this could be enough to pay for you to pay for any associated costs in this sort of scenario.
What should you not use an emergency loan for?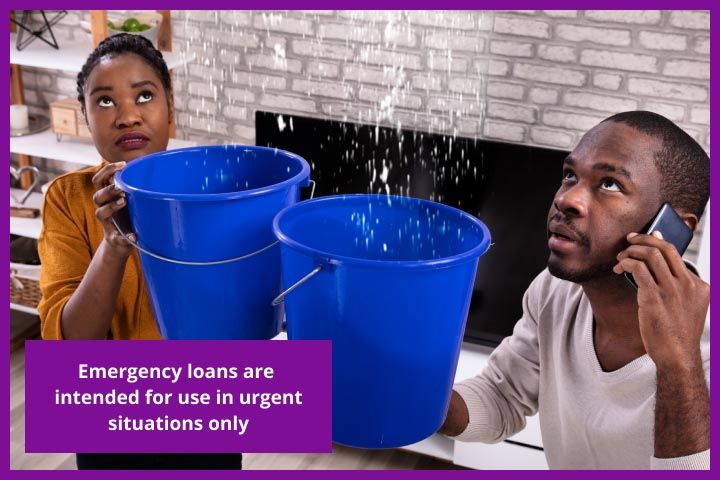 An emergency loan should only be used to pay for unexpected costs and financial burdens that you otherwise may struggle to manage.
This means it is not appropriate to use them for anything that is not an emergency. This includes things like paying for a holiday or any other luxury that isn't an absolute necessity.
Emergency loans are intended for use in urgent situations only, where you need to get the cash into your bank account quickly.
Can you get an emergency loan with bad credit?
You may still be able to secure an emergency loan if you have a bad credit score. There can be a number of reasons why someone may have a bad credit score, with ratings affected by things such as late payment fees on existing credit lines or unavoidable bankruptcy.
If you are unsure about your current credit status, it is always advisable to be aware of it before you make an application, as a rejection from a lender could further negatively impact your credit rating. You can check your credit rating for free by requesting a copy of your credit report from either Experian, Equifax or TransUnion.
How do I choose the right lender?
When applying through CashLady, we will transfer you to the lender most likely to accept your application. But before completing your application with the lender you may wish to look closely at the following:
Credit history: Before applying be aware of your credit score as another rejection can have a negative effect.
Loan amount: Ensure the lender is able to offer the amount of money you need to borrow, so check this before you submit the application.
Interest rates: Interest rates vary from lender to lender and also be aware that the advertised rate may not be the same as the one offered to you, if successful. Loans with the lowest rate per annum tend to be the best option, although it depends on your situation.
Fund releasing: Most lenders should release funds within 24-48 hours. If you have a specific deadline you need the money for, go for the lenders that can offer this option, as well as being able to meet your other requirements.
Repayment schedule: Some lenders require a much shorter repayment period compared to others. Before deciding which loan to take, you must always ensure you are comfortable with the payment schedule and that you can pay for it without falling into financial difficulty. Also be aware that the longer the repayment window, the more interest you will have to pay, so it's important to strike a balance between the two.
Hidden fees: Check whether there are any additional fees attached to the loan for early repayment of the full amount or if you miss a scheduled instalment. You should also read through the contract before accepting the terms, as there may be additional fees that have not been clearly advertised.
What sort of checks do lenders carry out for emergency loans?
Lenders are keen to stress that every application is assessed on its own merits, based on your individual circumstances.
In order to ensure this, they must first conduct an initial affordability test to see if you are a suitable match for the emergency loan you have applied for.
The first stage of any check will typically involve performing a 'soft' credit check. This type of check involves the lender assessing whether you are eligible for any of their products and associated interest rates. This is a 'pre-approval' stage that may also require you to provide a top-level view of your financial history before they can confirm your eligibility.
While a soft credit check is recorded on your credit file, it will not leave a visible footprint. Other lenders will not be able to see this, which also means it should not have any impact on your credit score.
If you pass the soft credit check and are offered an emergency loan and wish to proceed, you will then have to undergo a 'hard' credit check. Unlike a soft credit check this can appear on your credit report and can remain there are around 2 years, however their impact on your report lessens over time.
The lender will look at your financial history in more detail to check how you have previously managed the repayment of any credit. This will pick up any negative marks on your report such as debt collection or overdue payments, which can often remain on your report for a number of years.
Always bear in mind when applying for any credit that requires a hard credit check, that applying for credit a number of times in a short period can have a negative effect on your credit score. Lenders may view this as you struggling to manage your finances, which they may not view favourably.
Should I get an emergency loan?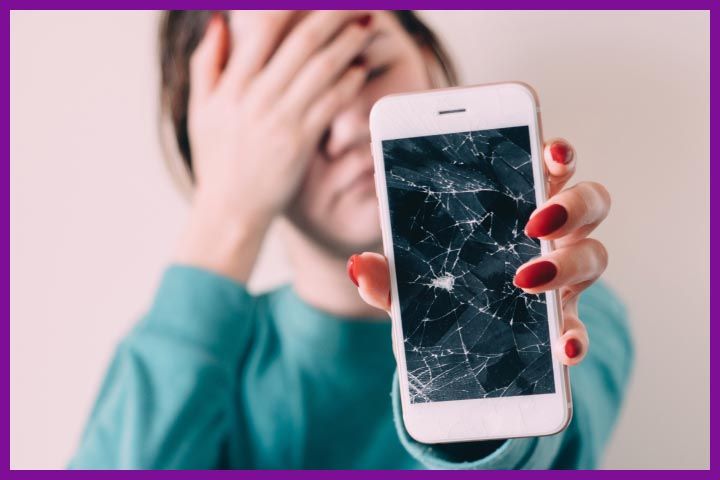 The only person who knows whether or not you should get an emergency is the person applying for it. Everyone's financial situation is different, and while you may not need a loan right now, that can change quite unexpectedly.
If you need to find money fast to pay for an emergency-related cost and your credit is in good enough shape, you may be able to secure an emergency loan with affordable repayments. Credit reporting company Experian state that a 'fair' score on their system averages between 721 and 880, while a 'good' score is usually between 861 and 960. However, every lender assesses different things when reviewing applications, so while you meet the criteria of one particular lender or finance provider, it can be a different story with another.
When taking out an emergency loan, you should also take a close look at your finances. Your ability to afford the repayments is not assessed solely on whether or not you regularly receive enough income, but also on how 'comfortably' you can repay it.
Lenders may want further details on your outgoings to ensure that by repaying the loan you still have enough money left over to live on. This is important as without it you could leave yourself in a vulnerable financial position if every penny you earn is being spent on bills.
Planning for your next financial emergency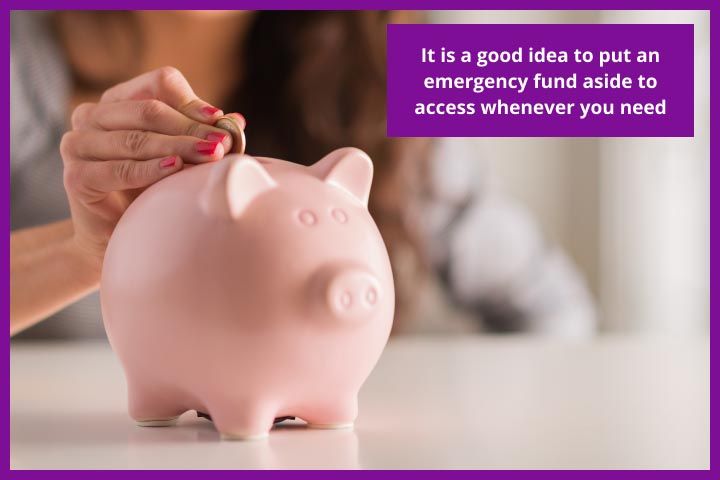 No-one knows when you may need to raise money in a hurry, as emergencies always arise out of the blue. However, once you have managed your way through the current one, it is a good idea to plan ahead to minimise the chances of being put in a similar situation.
The best place to start is to put an emergency fund aside to access whenever you need. Unexpected costs are always likely to arise in one form or another, and it can help to set up a separate savings account just for this purpose. Even if you cannot afford to put much into the account every week or month, even adding a small amount every now and then can make all the difference.
You can also work on improving your existing credit rating, so that if you do need to take out a loan in the future, you could have more options and better terms offered by the lender. Start this by requesting a free copy of your credit report from Equifax, Experian or TransUnion to address any errors or issues. Try to keep credit card balances as low as possible, pay bills on time and avoid taking out any unnecessary debt.
If you are struggling financially, there are organisations that can help. See Moneyhelper.org.uk and/or Step Change
---