Can you tell me a bit more about loans?
Sure! A loan is an amount of money that has been borrowed from a lender over a set amount of time. Loans come with a pre-agreed repayment plan, and it is really, really important that this is managed and paid on time each month.
When you take out a loan, you will also start to accumulate interest – this will be included as part of your monthly repayments.
Things to think about before taking out a loan as a young person
Before you make a decision regarding any financial product, it's important that you are aware of the associated risks.
The last thing anybody needs is to take out a loan and then discover that they're unable to keep up with the repayments. If you miss a repayment, there is a possibility that you might be charged a fee. If repayments are continuously missed, the consequences are more severe. Nobody wants a missed payment on their credit history – especially not someone of a young age who is likely to require financial services again in the future (for example, a mortgage application).
You might believe that you need this cash right now, but be honest with yourself: is it a necessity, or is it a want? Do you really need it this instant, or can it wait a few weeks or months until you have saved up? Saving up for something you desire does take time, but it can be a rewarding experience that could teach you a lot about budgeting and money along the way.
More importantly, can you definitely afford the monthly repayments? If the answer is no, please do not make a commitment, as this may lead to stress and negative financial implications in the future. Similarly, never borrow more money than you need, or can afford to repay.
What is the minimum age that someone can apply for a loan?
In the UK, many lenders state that you must be at least 18 years of age before you can apply for a loan. Some lenders, however, require you to be at least 21 years old, while for others, the minimum age of approval is 25 years old.
Are there any other requirements?
Yes - to apply for a loan, you need to be a UK resident, with a UK address and a UK-registered bank account.
The majority of lenders will also expect you to be in employment with a steady income paid directly into your bank account, as this suggests that you are more likely to be able to comfortably afford your repayments.
What are the most common reasons that young people take out loans?
MoneySuperMarket revealed that 52% of young people applying for loans advised that their motive was to purchase a car.
If this is you – congrats! Learning to drive is super exciting, and passing your test is a huge milestone and achievement. It's no wonder you want to experience the freedom of your very own car and get on the road as soon as possible.
Young people might also look into getting loans to pay for home improvements, gifts, or even weddings.
What sort of loans might be available for young people?
Personal loans are the most common type of unsecured loan. Unsecured loans are not linked with any of your assets, and are usually granted on certain eligibility factors, such as your 'creditworthiness.'
Secured loans are protected by 'collateral,' which means you agree to tie an 'asset' to your loan as a form of security. This could be your home, or car.
Our trusted panel of lenders do not offer secured loans.
There are other loans that you might be interested in as a young person:
---
Student Loan
A student loan is a type of loan especially designed to help students cover the cost of higher education, including accommodation and books. Once your education ends and you obtain full-time work, you will generally start to pay back your student loan, but this can depend on a variety of factors, including how much you earn. For further information on student loans for university, please visit the Gov.uk website.
It's important not to confuse student loans with loans for students. Being a student applying for a regular personal loan may be difficult, as one of the things lenders look for is a regular income from employment.
Postgraduate Master's Loan
If you are studying for a Postgraduate Master's Degree, you may be eligible for a Postgraduate Master's Loan, paid by the government, or via a scholarship. Like student loans, you will need to be earning a certain amount of money before you start paying the balance back. Your eligibility depends on various factors, including your age, the course you are enrolled onto, and your nationality and residency status. You can check the full eligibility criteria here.
You can find more information on Postgraduate Master's Loans on the Gov website.
Guarantor Loan
If you are struggling to get a loan, a guarantor loan entails someone else (usually a family member or friend) promising to take responsibility for and pay back the money if the person borrowing it is no longer able to. Of course, a guarantor will need to have a good credit rating. Depending on the lender, the guarantor may sometimes receive the loan. When this is the case, the guarantor can choose whether to transfer the loan to the borrower or return it to the lender. If the guarantor wishes to return the loan, they must do so within the two week "cooling down" period. If the guarantor chooses to transfer the loan to the borrower, they will have to pay it back under the agreed terms of the loan.
If you miss any payments due on the loan, then the lender may attempt to take the money from the guarantor's account via a pre-agreed Continuous Payment Authority (CPA). Any payment defaults will be reported to credit reference agencies, which could impact both your own and the guarantor's credit ratings. The loan will also continue to gain interest.
Any payment defaults will be reported to credit reference agencies, which could impact both your own and the guarantor's credit ratings.
Car Finance
Car finance is essentially getting a loan to buy a car. Rather than paying the full price of the car upfront, you will instead make monthly payments, all the while still being able to make use of the car. Once all payments have been made and the loan is cleared, you will become the outright owner of the car.
While the minimum legal age to drive a car is 17, lenders will not consider offering a loan – or car finance - to anybody under the age of 18. This can be disheartening for those who have just passed their test and are keen to ditch mum & dad's taxis!
---
Why might a loan be a good option for a young person?
Are you money savvy? Are you confident that you will be able to make the repayments?
Taking out a loan could help you gain access to money.
If your application is accepted and you successfully pay the loan off within the set timeframe, you may see a boost to your credit rating. This could improve your chances of being approved for financial products in the future, including credit cards and a mortgage.
As a young person, what are my chances of being approved for a loan?
When you apply for a loan, lenders will look into a number of factors before making a decision. To determine whether you are likely to able to afford repayments, lenders will check your current employment status and income, as well as your credit score.
If you have a low credit rating, or no credit history at all, finding a lender to provide you with a loan will be difficult and any loans that are offered may be of a lower amount and come with a higher interest rate.
You can check your credit score for free by visiting either Experian, TransUnion or Equifax.
Please be aware that both Equifax and TransUnion charge a monthly fee for their services after an initial 30 day free trial.
I don't understand – I've never been in debt, so how can my credit rating be low?
We totally get it – this revelation can be seriously baffling!
It might appear unfair that your credit rating is classed as low when you have never had any financial issues.
A low credit rating doesn't necessarily mean poor credit history; it may simply mean no credit history. While having no credit history isn't a bad thing, it could still hold you back when it comes to applying for financial products.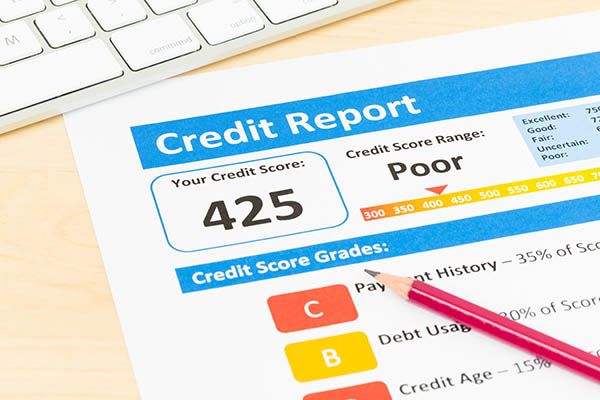 How can I improve my credit rating?
This is a really great question, and we can give you a few tips!
Getting on the electoral roll is one of the quickest ways to boost your credit rating and is totally free to do! Enrolling will also make it easier for potential lenders to identify you.
Make sure all of your details are correct and up-to-date on your credit report. Believe it or not, something as minimal as an address typo could affect your credit score.
Ensuring that all your bills are paid on time is another smart way to improve your credit score. We understand that as a young person, you may currently not have many bills in your name, especially if you still live at home with parents. The good news is that a mobile phone bill counts if you have a contract.
Be wary of joint bank accounts. If you share a bank account with somebody else, for example a partner, be aware that their low credit score could actually affect your own.
If you have made attempts to get access to credit but have been turned down, refrain from immediately applying with other lenders. Making several applications over a short period of time could lower your credit rating.
Another option to boost your credit rating could be to get a credit-building credit card. These cards are ideal for those who have little to no credit history and can be an ideal way to establish your rating.
By making purchases on these cards and paying them off every month, you are proving that you are creditworthy, which may to help to stand you in good stead in the future. You don't even need to make hefty purchases to reap the rewards – simply paying for your £5 meal deal once a week and then clearing the £20 at the end of the month is enough.
Again, we can't stress enough how important it is to be 100% sure you thoroughly read the terms and conditions and are confident you will be able to make your monthly repayments on time before you apply for any financial product.