What are short-term loans?
A short-term loan is a type of personal loan usually borrowed for less than 12 months. Often the interest rate for short term credit is higher than personal loans you often see advertised on the high street.
Short-term loans are normally quick to process and once your loan application is approved, the money is transferred directly into your bank account - usually on the same day*
Repayments are then taken from your bank account each month until the full amount borrowed is repaid, along with any interest fees or charges.
At CashLady we only work with FCA (Financial Conduct Authority) authorised and regulated partners who have proven experience in the high-cost short-term credit sector
Because short-term loans often have higher interest rates than mainstream credit products, borrowers with a poor credit history may have a greater chance of being approved by UK lenders. This is because the higher rates of interest can allow lenders to be more relaxed when it comes to underwriting.
Advantages of high-cost short term credit?
The main advantage of short-term credit is immediate access to funds when there is an urgent or unexpected cash emergency.
You can also borrow small amounts, as little as £100 if that is all you need.
What can I use a short-term loan for?
Many people take out short-term finance to cover large unexpected expenses like a car repair, replacement household appliances or medical bills. Short-term loans can also provide a stop-gap if there a sudden drop in income.
FCA Price caps
Short-term credit providers are heavily regulated and must comply with strict rules enforced by the FCA to ensure fair treatment of borrowers. There are also price caps in place to protect the consumer.
Borrowers must pay no more than 0.8% per day in interest
Borrowers are charged no more than £15 in fees if they fail to pay back their loan on time
Borrowers will never pay more than double the amount of money originally borrowed.
How do I apply for a short-term loan?
One of the easiest ways to apply for a short-term loan is online. The application can be done from your computer, tablet or internet enabled mobile phone and approval decisions can often be sent to you in minutes*
Most lenders have an online loan application process, where you will need to spend a few minutes submitting your personal details along with information about your loan request. Lenders will then be able to evaluate your loan application for affordability and perform any required identity checks or credit searches.
How quickly will I receive my money?
In many cases, you will receive a decision the same day with money sent to your bank account within minutes*, once approved (depending on your loan provider).
How do short-term loans work?
Short-term loans work in much the same way as any other instalment loan product. You borrow money over an agreed period of time and repay the amount of money borrowed over the course of your loan period on specific dates - usually monthly instalments.
Loan Repayments
Loan repayments are usually made electronically through Continuous Payment Authority (CPA). When you set up your loan agreement you will need to provide details of your bank account and agree on a regular date for money to be transferred from your bank account to your lender.
Example Payment Structure: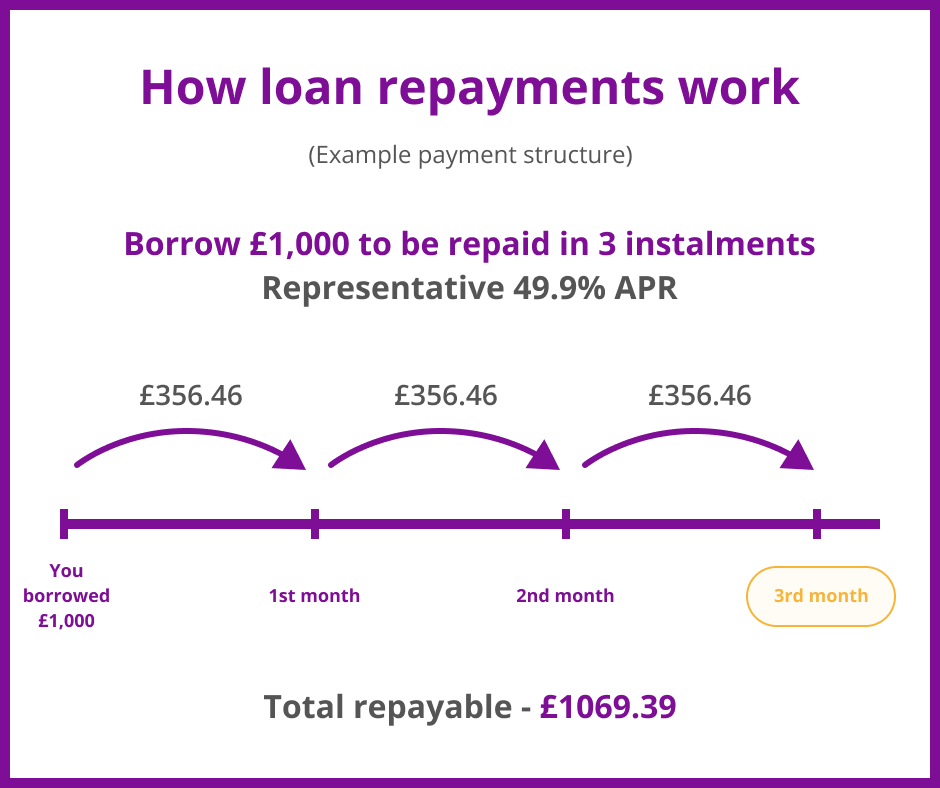 Struggling to repay your loan?
If you are struggling to repay your loan, you should notify your lender about your situation as soon as possible.
They may provide financial advice or practical support, such as an extended repayment period.
FCA regulations - late repayment fees?
FCA regulations for high-cost short term credit providers cap any late repayment charges at £15.00. This means you will never pay more than £15.00 for a late repayment fee no matter how much money you owe.
How much is a short-term loan?
The cost of a short-term loan depends on the amount of money you borrow, and the rate of interest applied to your loan.
Short term loan interest rates
Interest rates on short term loans vary. Most short-term lenders charge higher interest rates than high street banks or credit card providers.
| Lender | Representative APR |
| --- | --- |
| Tappily | 49.70% |
| George Banco | 49.70% |
| Safety Net Credit | 68.70% |
| Bamboo | 69.90% |
| Salad Money | 69.90% |
| Everyday Loans | 99.90% |
| TM Advances | 180.80% |
| Fund Ourselves | 504.70% |
| Money Platform | 839.20% |
| Money Boat | 939.50% |
| Loans 2 Go | 1013.30% |
| Fernovo | 1244.00% |
| Quidmarket | 1301.00% |
| Nova Loans | 1306.00% |
| Lending Stream | 1333.00% |
FCA Price caps - High-cost short-term loans
As mentioned above, the Financial Conduct Authority (FCA) has placed a limit on the amount of interest that can be charged per day on a high-cost short-term loan. This limit is 0.8% per day.
This means you will normally repay around £24 each month for every £100 that you borrow.
Can I repay my loan early?
Most loan providers could allow you to repay your loan early. Some lenders may charge fees for doing so. If you can repay your loan early, you could save a lot of money. Interest rates are normally calculated daily, so repaying your loan back just 30 days early could save you an entire month of interest payments on your loan.
How do I choose the right lender??
Choosing the right lender is important. The short term lending market in the UK has changed significantly in recent years, largely down to strict lending rules enforced by the Financial Conduct Authority (FCA) since they replaced The Office of Fair Trading (OFT) in 2013.
These new rules have brought many benefits to our customers, making short-term borrowing cheaper and more transparent.
Customer Reviews
Customer reviews are a good starting point. Does your lender have a strong history of good customer feedback?
Cost of borrowing
Comparing the cost of borrowing can help you decide if a loan offer is competitive or not.
Customer Service
Does your lender have good levels of customer service? Do they have a good FAQ section on their website to help you?
What are short-term loans for bad credit?
Short term loans for bad credit are designed for customers with a poor credit rating. The interest rates offered on these types of loans will generally be quite high as the lender is taking on more risk.
Bad credit short term loans do not mean you will get a guaranteed loan approval.
Can I get a short-term loan with bad credit
Short-term lenders want to know that you can pay back the money borrowed back in full and on the dates agreed. If you can demonstrate your ability to do so, your bad credit score may not be a barrier.
Some lenders have unique underwriting processes to help them assess your current credit management, not your financial situation a year or two ago
Whilst approval isn't guaranteed, short-term credit providers are generally more open-minded than traditional lenders.
Short-term loan applications with CashLady
With so many loan products and lenders available, it can be difficult to know where to start.
Short-term loan applications with CashLady involve just one simple application form. Using our technology means your application will be seen by our panel of authorised and regulated finance providers.
We use our in-depth knowledge of the market and established relationships with reputable lending firms, to match your application with the lender most likely to help.
Once we have matched your loan application with a suitable lender, you will complete your application directly where you will have an opportunity to ask additional questions before you accept your loan offer.
Remember to check your documentation thoroughly and ensure you fully understand the financial implications of any financial offer you may receive.
Summary - Short-term loans
Short-term loans can provide access to emergency funds, even if you have less than perfect credit.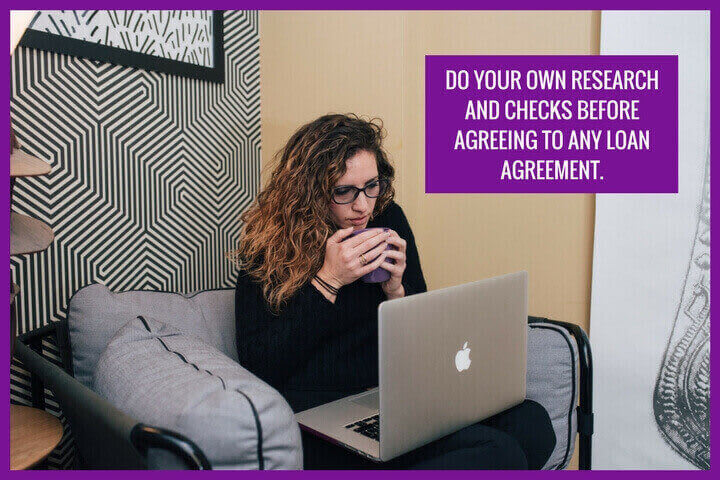 With so much information available at your fingertips, researching your options online has never been easier.
Developments in technology and underwriting processes can mean fast online applications and quick loan decisions are often possible.
If you want to apply for a short term loan through CashLady, you can be sure that your loan application will only be seen by FCA authorised and regulated lending partners for your safety.