What is a short-term loan?
Short term loans are loans for relatively small amounts of money that are to be repaid over a short period of time. Typically, this is just a few months to a year, but you can find loans using the CashLady website that are to be repaid up to 5 years.
They are unsecured loans, meaning that you don't need to secure your loan against your home or car or any other property.
If you take out a short-term loan you are required to repay the same amount each month to the lender until the loan and the interest are repaid.
Short term loan example
You take out a £500 loan over three months at an APR of 49.9%
You then are required to repay £178.23 to the lender each month for the next three months. After the three months you will have repaid a total of £534.69. So, it would have cost you £34.69 to borrow that £500.
Finding a Short-Term Loan via CashLady
At CashLady, we make finding a short-term loan quick and easy. Rather than filling out multiple application forms on the websites of various short-term lenders, you can instead:
fill out one simple application form on the CashLady website here.
We then present your application to the 30+ lenders on our panel to find the lender most likely to accept your application, at the best APR available to you.
We will then direct you straight to that lenders website to complete your application.
Our service is free and thanks to our soft search technology has no impact on your credit score.
When is a short-term loan a good idea?
These loans are specifically intended for situations where you have a necessary expense, but you don't currently have the funds available to pay for it.
An example might be if your washing machine breaks down. You may not have a couple of hundred pounds available right now to replace it, but with a short-term loan you could get the money for a replacement paid into your account the same day you apply*, and then spread the repayments over the next few months.
These loans should not be used for frivolous or unnecessary purposes such as holidays, nights out etc. You should also only borrow the amount you need and be confident that you can meet all your repayments in full and on time.
Who is a short-term loan suitable for?
Generally speaking, these loans are suitable for those who need money quickly and don't have any other way to meet their necessary expense. Some people may have savings put aside or could borrow a small amount of money from family or friends. If this is the case, either of these may be a better option as chances are there would be no interest to pay.
Short term loans can also be useful if the borrower doesn't have a credit history or has a poor credit profile as many short-term lenders are often willing to provide loans to these customers.
Why are the interest rates so high?
If you are comparing loans online, you may find that the interest rates on short term loan products look high when compared to headline loan rates advertised by high street banks or building societies.
One key reason for this is that short term lenders cater to lending to those with poor credit profiles or no credit history at all. This represents a risk to the lender as there is a greater chance that the borrower won't make their repayments. This risk is passed on to the customers in the form of a higher interest rate.
Will a Short-Term Loan Negatively Affect my Credit Score?
If you fail to meet your repayments then yes, your credit score could be negatively impacted. Although this is true of any loan or credit product, not just short-term loans.
Conversely, if you meet all your repayments in full and on time then this could indicate that you can be trusted to manage credit well and may increase your credit score.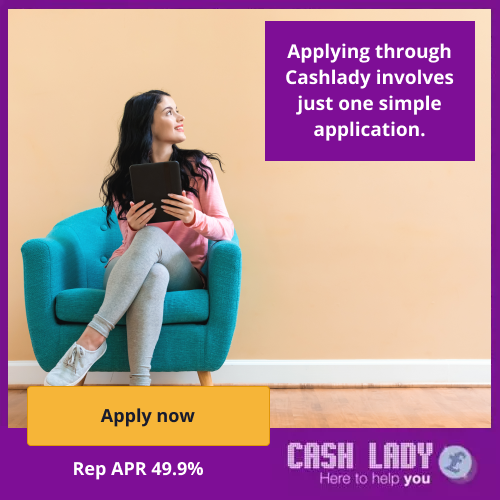 What's the difference between a short-term loan and a payday loan?
These two terms are often used synonymously but there is a small distinction between the two. A payday loan is a loan that is to be repaid by your next payday. By contrast, a short-term loan is spread over two or more months. For many people, spreading the cost over several months makes the loan repayments more affordable.
Am I eligible to apply?
To apply for a short-term loan with CashLady you must:
Be at least 18 years old
Be a UK resident
Have a UK bank account with a valid debit card
Have a regular income.
If you meet all these criteria, then yes you are eligible to apply.
Where to go for help with debts
If you are struggling with your finances and worried about your debts then there are a number of organisations that you can turn to for free and impartial advice. See the links below.
---