What exactly are meal kit boxes?
Meal kits are precisely that: kits containing the ingredients needed to create various meals, delivered straight to your door. Ingredients are fresh, and pre-portioned to suit a variety of set-ups, including couples and large families with multiple children.
Easy-to-follow recipes are sent with the boxes and are usually also available online.
Kits offer a diverse selection of dishes to tantalise every tastebud – a number of companies also cater for vegetarian and vegan preferences, as well as those who follow gluten-free diets.
The selection of available meals differ each week, meaning there is a constant rotation of choice.
Why you might consider meal kit boxes…
It's a Friday evening, you've just finished work, and you're starving.
The supermarket is heaving; it would seem that you're not the only one to have had the idea of a pre-weekend supermarket sweep.
There are far too many people. You feel flustered and irritated, and you can't decide what to have for tea. You try to mentally recall everything you'll need to whip up a quick spag-bol, but you're too tired – and why is it that there's always someone who seems to clog up the aisles by insisting on painstakingly inspecting every single carrot when you just want to grab 'n' go?
This is exasperating. You abandon the shop and order a takeaway instead. Hands up, how many of us have been in that situation?!
Planning meals and shopping can 'eat into' a lot of time, which not everyone has to spare.
Meal kits aim to take the stress out of feeding time, freeing you up and possibly saving you money.
The potential ease of meal kits may be especially appealing to families, or those who work long hours.
While we're still thinking about the whole supermarket situation, who has ever been guilty of impulse buying?
They say never shop when you're hungry, and there is certainly a logic behind that sentiment!
When we're peckish, food just looks that bit more alluring to us, particularly if we're low on energy and our body is craving a quick sugar hit. A packet of popcorn here, a jam donut there… those cheeky little till add-ons can soon add up!
Using the services of meal kit companies and decreasing your supermarket sessions could put an end to spur-of-the-moment buys, which may result in savvy savings in the long run.
Meal kits might also be a solution if you have a hankering to learn to cook or expand on your current culinary skills. Boasting a vast range of recipes, meal kit websites hold the potential to explore dishes you may not have previously heard of or considered trying.
Ordinarily, it can be frustrating when you set your heart on a recipe, head out to gather the items needed, and find that you are unable to locate a certain spice or herb. Meal kits pledge to make this a thing of the past.
Another benefit of meal kits is that they help to eradicate food waste by supplying exactly what you need – nothing more, nothing less. You can forget desperately trying to seek use for those two leftover onions that annoyingly came in a pack of three when you only needed one (fried onions on toast, anyone…?).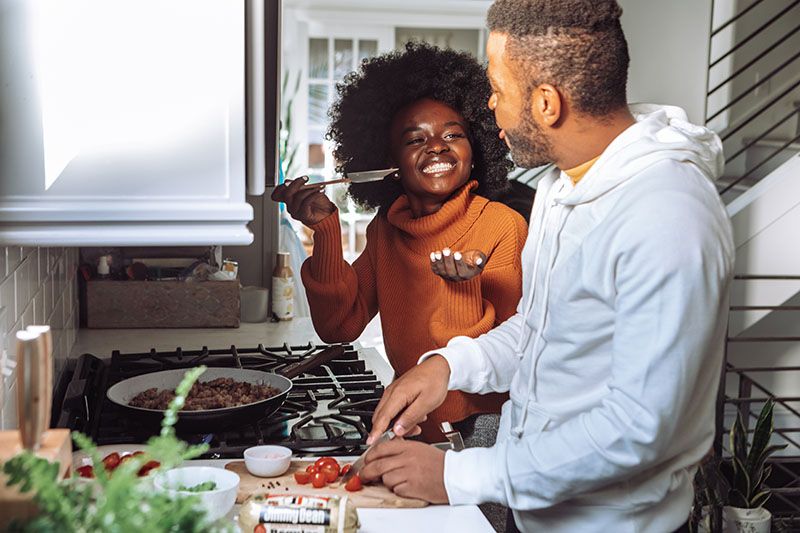 So, how cost-effective are meal kit boxes? Are they worth the hype?
We were curious to find out the answer to this, so we did some research.
We put some of the most well-known meal kit brands to the test and compared them with a handful of Britain's favourite supermarkets.
First, we checked out Gousto. While offers and promotions are always subject to change, at the time of our research Gousto were offering 60% off the first order, and 20% off any boxes bought within the first two months of signing up. In addition to this, they also granted free delivery on the first order (usually £3.99).
We selected one of their Regular Boxes and based our order on three meals for two adults.
To show variety, we chose Beef Spaghetti Bolognese, Classic Chicken Curry and Rice, and Cheesy Veg-Packed Pasta Bake.
Gousto:
With the current first purchase 60% discount and free delivery applied:
Cost per box: £11.00
Cost per serving: £1.83
With a 20% discount applied (currently available for two months after your first order), plus a £3.99 delivery fee:
Cost per box: £27.98
Cost per serving: £4.66
Full price box with £3.99 delivery fee:
Cost per box: £33.98
Cost per serving: £5.66
Next, we had a nosy at HelloFresh. We kept our three meal choices as close to our Gousto selections as possible – the only difference being that the curry was coronation chicken rather than classic.
Similar to Gousto, HelloFresh were also running a temporary promotion, promising first-time buyers 60% off their initial purchase, and a further 25% off any orders secured for the following two months. The standard £4.99 shipping fee applied to all orders.
HelloFresh:
With the current first purchase 60% discount applied, and £4.99 delivery fee:
Cost per box: £11.20
Cost per serving: £1.86
With a 25% discount applied (currently available for two months after your first order), plus a £4.99 delivery fee:
Cost per box: £25.74
Cost per serving: £4.29
Full price box with £3.99 delivery fee:
Cost per box: £32.98
Cost per serving: £5.49
Finally, we broke the recipes down to see if shopping for each item separately at Aldi and Sainsbury's would reveal if meal kit boxes really are a cost-effective way to dine.
Assuming that you also needed to invest in the countless spices, dried herbs, pastes, and stock pots required for each recipe, we discovered that you could be 'forking out' the following for each meal:
Beef Spaghetti Bolognese:
Price per serving at Aldi: £5.25
Price per serving at Sainsbury's: £6.08
Classic Chicken Curry:
Price per serving at Aldi: £4.54
Price per serving at Sainsbury's: £6.90
Cheesy Veg-Packed Pasta:
Price per serving at Aldi: £6.65
Price per serving at Sainsbury's: £7.26
(Prices based on the cheapest version of each product at the time of research in June 2023. Some of the ingredients listed on Gousto and Hello Fresh were unavailable in supermarkets, so we matched the closest substitute.)
When looking at our findings, it's worth taking into account that - as previously mentioned - spices are amongst one of the highest-rising food staples in the UK (as of April 2023), so even buying one or two jars per recipe could set you back a couple of pounds.
Something we noticed was that it was often difficult to buy set numbers of the produce needed (onions, for example, tend to be sold in multi-packs). This may contribute to food waste if an alternate use for leftovers is not sourced before the product spoils.
To conclude…
Average price per serving (without discounts)
| | |
| --- | --- |
| ALDI | £5.48 |
| GOUSTO | £5.49 |
| HELLOFRESH | £5.66 |
| SAINSBURY'S | £6.74 |
While the overall verdict saw Aldi come out on top and fly the flag for the humble DIY shop 'n' cook, there are many factors to deliberate before you commit to a meal kit; for example, you might end up spending more money on fuel costs while driving to and from Aldi.
If you are expecting a financially tough month (for instance, you're having to splurge on a new boiler, or the car is due its MOT), it could be an idea to consider making the most of new customer offers on meal kit boxes – just make sure that you are not entering into a financial bind with any company. Look for a company that allows you to opt out of your subscription at any time, with no extra cost. If in doubt, ask before you buy – the last thing you want is to be hit with unexpected costs for a service you no longer want.
Of course, everybody's situation and eating habits are different, so it's worth doing your own research to determine whether you and your family could benefit from meal kit boxes in terms of saving both time and money.