What is a credit card?
A credit card is a personal card that you can use to make purchases now to repay at a later date. You can also use a credit card to withdraw money from cash machines; however, you will be charged for this service. Every card issuer is different, but you can expect to be charged between 2% and 5% of the amount you withdraw.
Credit cards are issued by banks, finance companies, and some stores.
You can use your credit card online and in shops and restaurants while out and about, and anywhere you see the Visa or Mastercard sign.
What is the difference between a credit card and a debit card?
A debit card is linked to your personal bank account. Unless you have an overdraft, you are spending and withdrawing your own money. Don't forget, interest rates and charges may apply when using an overdraft.
Using a credit card is a form of borrowing. A credit card allows you to access to money in the form of credit that you are required to pay back. If you do not pay back the money you have borrowed in full by a pre-agreed repayment date, you will begin to be charged interest on the outstanding balance.
Both credit and debit cards usually come with contactless features, allowing you to make transactions without the use of a Personal Identification Number (more commonly known as a PIN).
They can also be used for online shopping; merchants will ask for your CVV code – the three digits on the back of your card – at the checkout: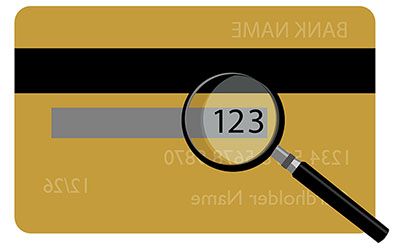 Get clued up on credit!
Before we get down to the nitty-gritty, here are some fun facts to get you acquainted with the credit card.
How does a credit card work?
When you use a credit card, you are essentially borrowing money from the credit card provider and agreeing to pay it back at a later date, either in full or in instalments.
Once you have been approved for and received your credit card, you can expect the process to look a little like this:
1. Use your credit card to make a purchase or withdraw cash.
2. Pay back the credit balance in full, or make at least your minimum monthly repayment, before your repayment due date. Many companies will allow you to choose your own due date – this could be planned around your payday.
3. If you clear the balance of the card each month, you should not incur any interest. However, you may incur interest in other ways, such as on an annual fee, so it's important to check the terms and conditions of your credit agreement. If you chose to clear your balance in monthly instalments you will be charged interest, unless you are in a 0% interest promotional period. Again, it's always important to check the terms and conditions of your credit agreement carefully.
4. Missing your monthly repayment entirely runs the risk of significantly damaging your credit score and being charged a late fee. You will also be charged interest. Continuing to spend on your credit card without paying it off could lead you into a spiral of debt and your credit score will also decline as a result. It is likely that your card will be suspended.
What is a credit balance?
A credit balance is the amount of money you owe the credit card provider.
You can choose to repay your credit balance in full, or in monthly instalments. Your credit card provider will send you a monthly statement showing the minimum payment you must make, and the date this is due.
It will also show you the rate of interest you are charged, as well as details of any promotional rate and period, if applicable.
What is a credit limit?
A credit limit refers to the maximum amount of money you can borrow on a credit card.
The limit will be set by the lender – their priority is to offer you a card with a limit that they (and you) are confident you are able to afford and manage comfortably.
When deciding on a limit, the lender will consider several different factors, including your credit score, current income, any existing debts you may have, and how you have managed credit in the past.
If you go over your credit limit you may be charged a fee, and your credit rating may suffer. Any transactions you attempt to make beyond your credit limit may be blocked by the retailer.
Can I change my credit limit?
With some lenders, it may be possible to request a higher credit limit than the one you were initially given.
It's a good idea to use your card with its existing, pre-set limit for a few months before you ask for an increase. This will give both you and a lender an idea of how comfortably and reliably you can manage your repayments. Some lenders may not accept increase requests, whereas some require you to have had your card for at least 6 months.
You are more likely to be approved for a credit limit increase if you have made your repayments on time every month and have demonstrated that you can use your card sensibly by not creeping too close to your limit.
It's important to remember that an increased limit may – depending on how much you intend to spend – result in higher monthly payments. Ask yourself if you really need a higher limit.
What is an interest rate?
The interest rate on your credit card will also be decided by the lender. Like your credit limit, the interest rate will be based on various factors, including your credit history.
This is stated as a rate per year, known as the annual percentage rate (APR).
As a general rule, the better your credit history, the better interest rate you will be offered.
Different types of credit card
There are so many cards on the market, it can hard to keep track of what's what.
Here's our rundown of some of the most popular types of credit card:
Balance Transfer Credit Card
Balance transfer credit cards allow you to move the balance from an existing credit card onto a new card without incurring any interest for a set period of time. This could be useful if you are in the process of paying off an existing card and want to avoid mounting interest fees.
There is usually a transfer fee to consider; this varies by lender. Always read the terms and conditions of your credit agreement before making the decision to switch.
0% Purchase Credit Card
A 0% purchase credit card does not charge interest on spending for a pre-agreed period.
If you are looking to make a one-off purchase you know you will be able to pay off before the interest-free period ends, a 0% purchase card might be an ideal option.
Credit Building Credit Card
By using a credit building credit card sensibly, alongside managing any other credit commitments you may have, you could see an improvement in your credit score over time. If you are considering applying for a credit card and you have little-to-no credit history, this may be a product to consider.
Travel Credit Card
Many credit and debit cards will charge you a fee for making a purchase or withdrawing money while overseas. The rate of exchange may also be higher, costing you more every time you spend. Travel credit cards offer low or no fees for spending abroad.
Advantages of credit cards
If used sensibly, a credit card might actually help to rebuild your credit rating. Showing that you are able to make repayments on time every month could lead to a rise in your credit rating. To see an improvement, you must stay on top of any other credit commitments you have by making at least your minimum monthly repayments on time.
If your credit history is 'thin' because you've never applied for or used credit before, using a credit card correctly could help you build-up and establish your rating.
Purchases made on credit cards between £100 and £30,000 are protected under Section 75 of the Consumer Credit Act (1974). If the item you buy is faulty, or fails to arrive, you may be entitled to claim your money back through your credit card provider.
A credit card allows you to make a large purchase and split the cost over time.
Things to consider before applying for a credit card
If not used sensibly, a credit card could lead to debt, a decline in your credit rating, and financial stress.
Additional charges may occur as a result of late repayment fees or exceeding the set credit limit.
Using a credit card to withdraw cash will result in a cash advance fee, and may also leave a mark on your credit history. The cash advance fee varies between lenders, but generally ranges between 3% and 5% of the amount you withdraw and there may be a minimum transaction fee as well.
Who can apply for a credit card?
To apply for a credit card, you must:
Be a UK resident;
Be over the age of 18 (some lenders specify over 20);
Have a UK registered bank account with a debit card;
Have a UK registered address; and
Are employed, with a regular income.
You are more likely to be approved for credit if you have a good credit rating.
You can still apply for a credit card even with poor credit history, although your options may be a more limited.
Sometimes, your credit rating may be low simply because you have no credit history to report. This is especially common in younger people who may not have ever paid bills or used credit before.
How to apply for a credit card
1. Do some research into which credit card is best for you and your financial situation. You could make use of credit card comparison sites to help you narrow down your search and seek out the best product for your circumstances.
2. Depending on your chosen lender, you can apply online, in-branch, or in-store.
3. You will then undergo a full credit check (sometimes known as a 'hard' credit check).
4. If approved, your card will be issued or sent in the post. Your PIN will arrive separately.
Alternatives to credit cards
Loans
Depending on what you intend to use credit for, taking out a loan may be an alternative to applying for a credit card.
If you are planning to use credit to fund a large, one-off expense, a loan might be more preferable. A fixed payment schedule may help you keep on top of repayments.
Both loans and credit cards require monthly repayments and incur interest fees. It's worth remembering that with a loan, you pay a set amount of interest from the start, whereas you will only incur interest on the balance of your credit card.
Saving up
While saving typically takes longer than obtaining a loan or making a purchase on a credit card, you will not incur any interest fees and will not have to make repayments.
Credit card fraud
We hate to end on a negative, but we want your finances to be as safe as possible.
We'd like to tell you a little bit about credit card fraud.
Sadly, credit card fraud comes in many varieties and is on the rise in the UK. Data released by Experian in February 2023 revealed that credit card fraud was at its highest rate in ten years, and rose by 18% during the last three months of 2022.
How can credit card fraud happen?
Unfortunately, there is no one set answer to this. Criminal fraudulent techniques are always evolving. It helps to be aware of potential scams so that you are better prepared to spot them.
Card skimming involves fraudsters cloning and using your card. Skimming may happen if your card's information is captured by illegally installed devices on ATMs, fuel pumps or point-of-sale (POS) devices.
If you lose or misplace your card, it could fall into the wrong hands. As soon as you notice your card is missing, contact your credit card provider immediately.
Phishing emails come in a vast array of forms with the intent of stealing your information and gaining access to your accounts.
Signs you may have been a victim of credit card fraud
Your card is unexpectedly declined.
You notice strange activity on your online banking or paper statements.
You receive a notification from your credit card provider advising that you have exceeded your credit limit when you have not made any recent transactions.
Banks and credit card providers are trained to spot unusual activity and will investigate as soon as they are alerted. This may even occur before we have noticed ourselves!
Your bank may call and ask you to confirm whether you have made a payment. If you have not, they may go ahead and block your card.
How to keep yourself safe
Sign the back of your card as soon as it arrives.
Once expired, cut your old card up into as many pieces as possible. Be sure to cut through your signature and the chip.
Never tell anyone your PIN.
A genuine caller from your bank will never ask for your PIN, your full password, or request that you move money out of your account. If in any doubt about the authenticity of the call, put the phone down straight away and alert your bank via the number listed on their legitimate website or on the back of your card.
Don't allow online retailers to store your card details, even if you use the website regularly.
Many of us have stored our cards in the back of our clear phone cases for ease when out and about. Avoid doing this – anybody could note down your details. Keep your cards hidden and secure in your wallet at all times, and be vigilant when using them in public.
If you're going abroad, let your bank know. This can be done via most banking apps, and will prevent the bank from cancelling your card unnecessarily. Equally, it will alert your bank to any suspicious activity, such as your card being used in the UK during the dates you have specified that you are abroad.
Give ATMs a quick check before you use them. If something doesn't look right, or the cash machine appears to have been tampered with in any way, do not use it. Contact the number on the machine right away.
NEVER open any texts or emails you are unsure of, and do not click on any links sent from unknown sources. For further tips on how to spot and avoid phishing scams, click through to our blog.
You must report any suspected or confirmed fraudulent activity to your bank or lender as soon as possible. They have robust systems in place to protect you and your money and will be able to freeze your account and cards so that no further money can be taken.
Remember, being a victim of fraud is not your fault, and there is nothing to be ashamed of. It could happen to anyone, at any time.