The worst paying jobs in the UK
The Low Pay Commission highlighted that up to 580,00 workers are receiving less than minimum wage. Many of these workers are in some of the worst paying jobs listed below.
PayScale provides the average salary information for some of the lowest paid jobs in the UK.
| JOB POSITION | AVERAGE YEARLY SALARY |
| --- | --- |
| Cleaner | £10,635 |
| Teaching Assistant | £12,291 |
| Pharmacy Dispenser | £12,920 |
| Catering Assistant | £13,500 |
| Medical Receptionist | £14,331 |
| Hair Stylist | £14,449 |
| Customer Service Assistant | £14,546 |
| Waiter/Waitress | £14,543 |
| Shop Assistant | £14,592 |
| Barista | £14,655 |
| Beauty Therapist | £14,907 |
| Optical Assistant | £14,990 |
| Healthcare Assistant | £15,104 |
| Housekeeper | £15,454 |
| Personal Support Worker | £15,685 |
| Lifeguard | £15,941 |
| Porter | £15,976 |
| Bartender | £16,330 |
| Office Assistant | £16,951 |
Cleaners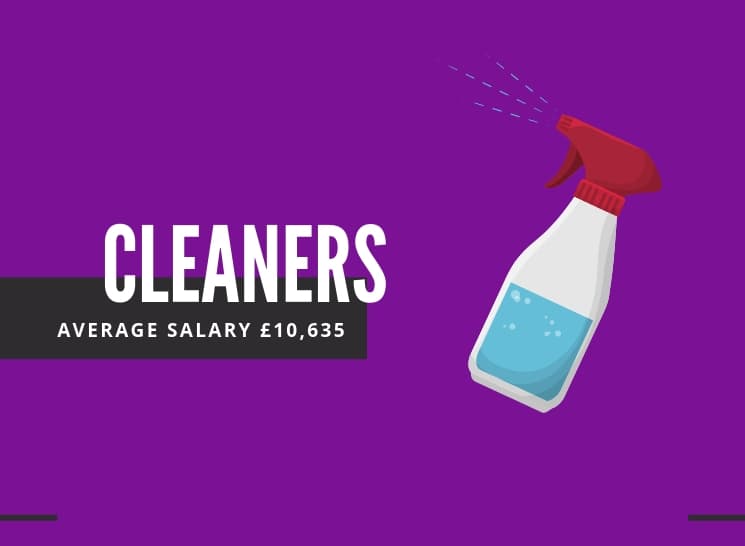 Scrubbing and brushing is labour intensive work. Yet both domestic and commercial cleaners earn an average salary of £10,635 per year. This makes cleaning one of the lowest paid jobs in the UK.
Many cleaners are self-employed or employed by cleaning companies. There are usually no formal qualifications required. Although knowledge and experience of cleaning are important along with high energy levels. With pay that is so low, it's no surprise that many workers in the cleaning industry turn to short term loans to cover unexpected expenses.
Teaching Assistants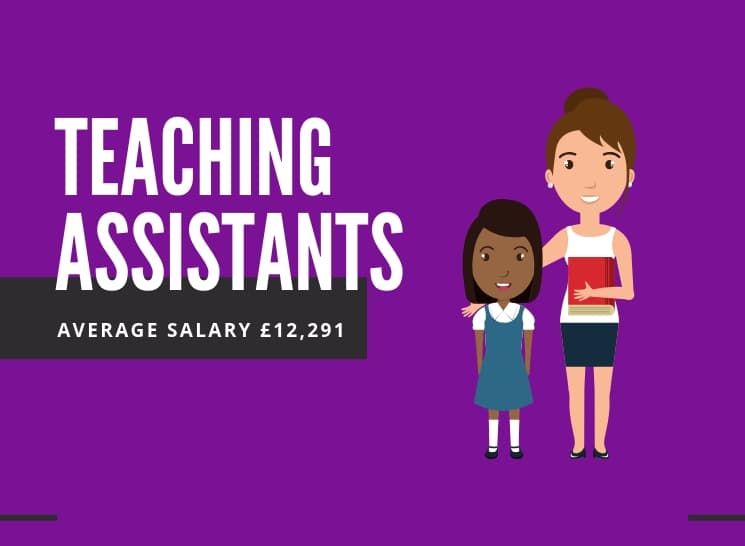 Teaching assistants have an important role in the classroom. They support the class teacher in instructional portions of the day in preschools.
In High Schools, they can often be found assisting with special needs students. Alongside this, they support teachers with grading and administration.
Despite the wide range of academic skills involved, teaching assistants earn £12,291 per year on average.
Pharmacy dispensers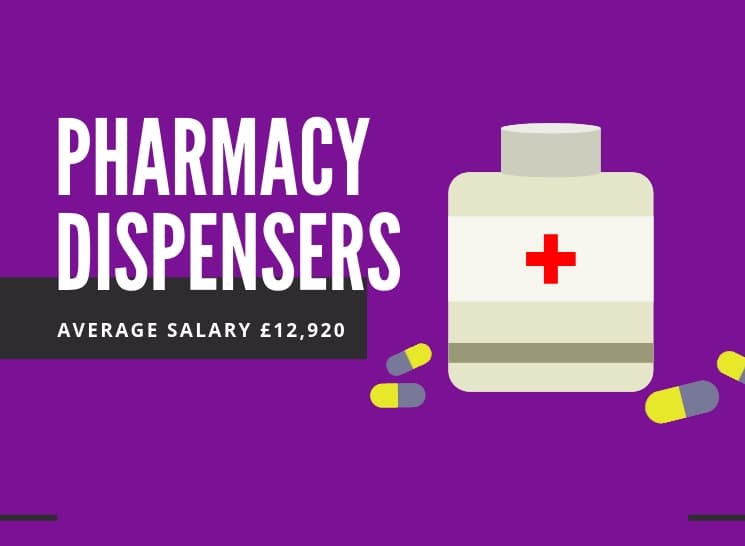 Pharmacy dispensers work on the front-line of the pharmacy. They ensure correct medications are dispensed and advise on over-the-counter remedies.
Other duties include:
Advising clients on symptoms
Correct labelling of medications
Mixing medications with fluids
Preparing ointments
Maintaining pharmacy inventory
A good deal of training and certification is required for this role. Yet, the average take-home pay is only £12,920 per year.
Catering assistants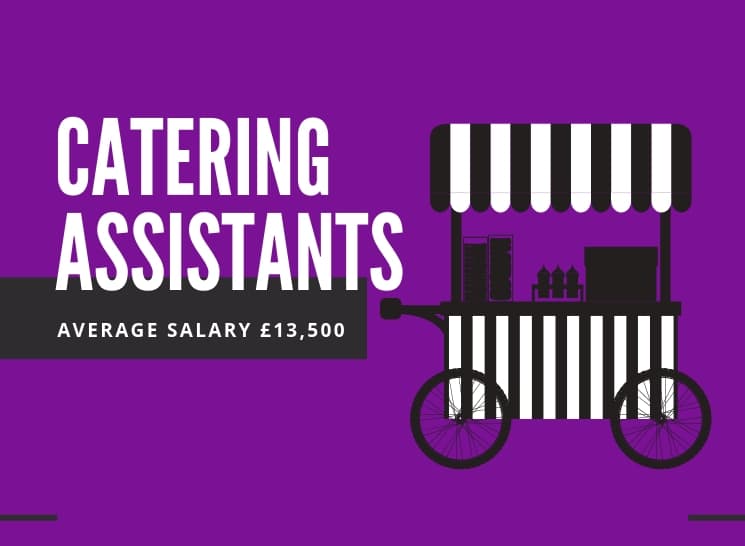 Catering assistants support companies who prepare and deliver meals and buffets. They are usually supplied to organisations and events.
Catering assistants are involved in:
Organising event details and bookings
Ensuring equipment is set up properly
Answering phone calls
Serving meals
Assisting in the kitchen and dish room
Strong customer service skills are needed for this role. A valid driver's license is important too. Despite the level of detail required, the average salary is £13,500.
Medical Receptionists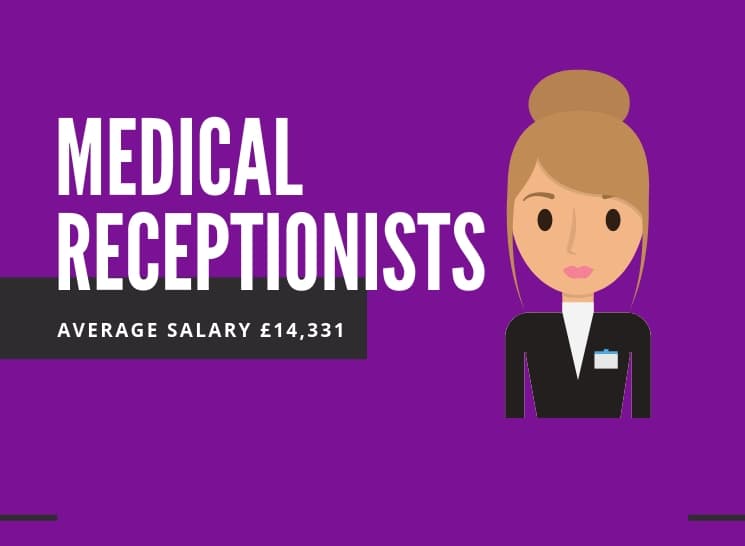 Medical receptionists work in a health care environment. Usually, this is a doctor's surgery or hospital. At times they work extended shifts at 24-7 facilities.
The role of a medical receptionist is to:
Answer telephones
Greet visitors
Arrange appointments and schedules for patients
Carry out clerical and administrative duties
Maintain confidentiality of patient records
Communicate with clinical staff
A medical receptionist can expect to earn £14,331 per year on average. But did you know that the NHS is one of the leading employers of people who turn to cash loans in financial emergencies?
Hair Stylists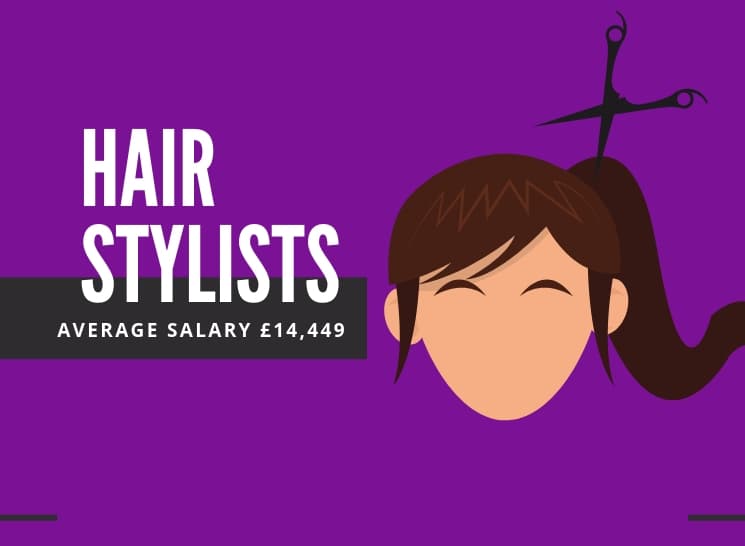 Hair stylists are never in short supply as pretty much everyone needs a haircut from time to time. Hair stylists work in salons or studios cutting, styling and colouring hair.
Despite the level of skill involved, hair stylists earn an average of £14,449 per year.
However, senior stylists can often earn significantly more, particularly those working in upmarket salons. What's more, they are frequently given tips from satisfied customers.
Customer service assistants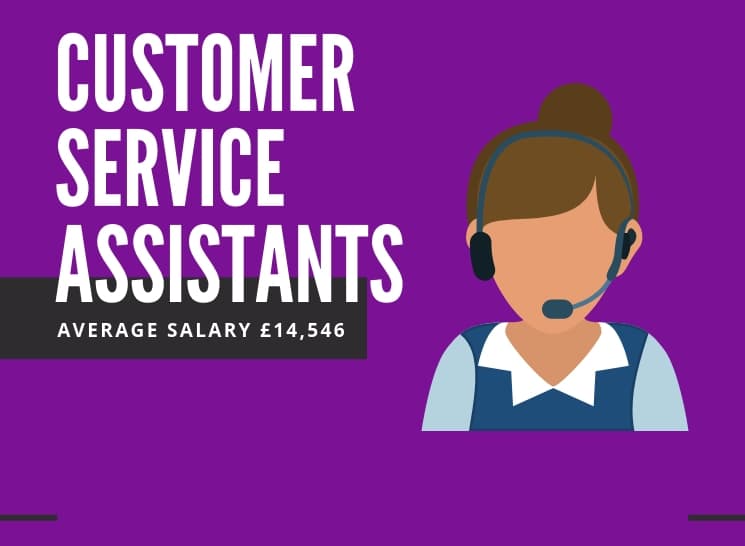 Customer service assistants are in high demand in the UK. Yet, the pay is low with an average salary of £14,546 per year.
Working in customer service requires strong people skills. That is, with the ability to work in a fast-paced environment. Empathy and the ability to stay calm in stressful situations are vital qualities.
The main duties are supporting customers with their queries. Yet, customer service assistants need to execute a range of administrative duties too.
Waiters and Waitresses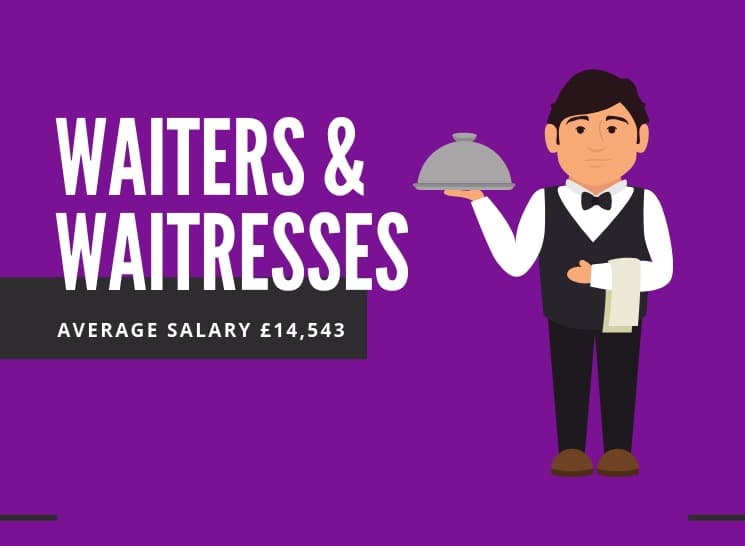 Waiters and waitresses are frequently at the top of the list of the lowest paidworkers in the UK. Duties often include:
A friendly and professional approach to customers
Long working hours
Unsociable working schedules
Often on zero hours contracts, salaries average at around £14,543. Yet, workers can supplement this with customer tips and working extra shifts.
Shop assistants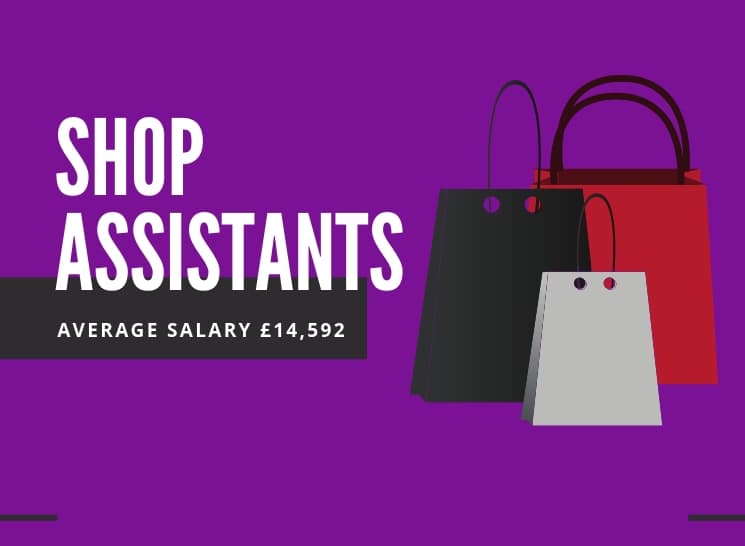 Shop assistants are involved in a wide range of duties in the retail environment. They should keep their work environment clean and well organised. And help customers with their purchases.
Further duties include:
Collecting payments
Wrapping purchases
Place orders in online systems
Accepting payments
Keeping inventory
Accepting deliveries
The take-home pay of a shop assistant is on the low end of the average UK wage at £14,592.
Baristas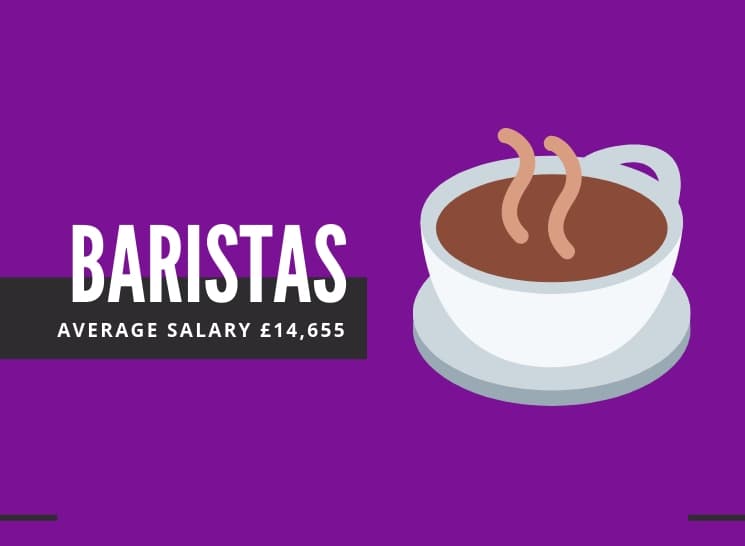 Baristas are individuals who work in coffee houses and coffee shops. This type of low paid job is popular with students and young adults.
Baristas should ideally have an interest in coffee. They will be making it and serving it to customers for much of their day.
Many of the duties include:
Greeting customers
Taking orders
Accepting payments
Cleaning kitchen areas
Developing expertise in flavouring
The take-home average salary of a Barista is £14,655 per year.
Beauty Therapists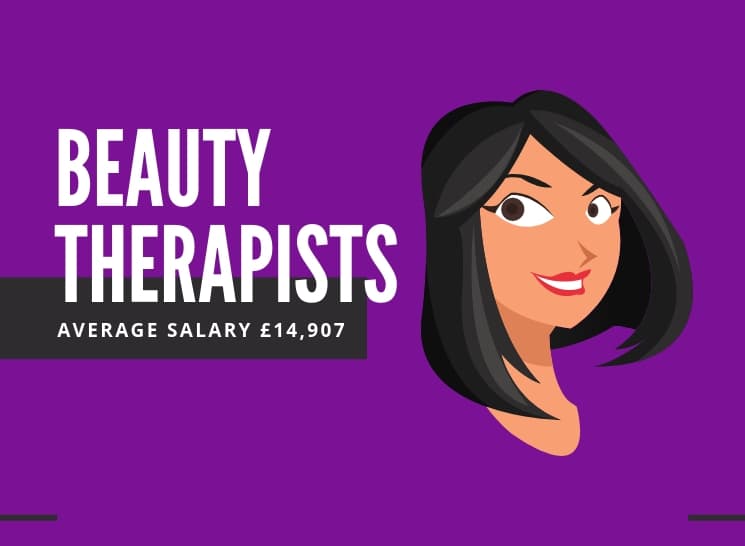 Beauty therapists tend to work in salons and spas. Yet, many are often self-employed and work from home.
Most beauty therapists need a Level 3 qualification to carry out full treatments.
These include:
Selecting and applying cosmetics to customers
Massages
Applying tanning products
Tinting eyelashes
Dying eyebrows
Waxing and electrolysis
Manicures
Working in beauty therapy offers an average salary of £14,907
Optical Assistants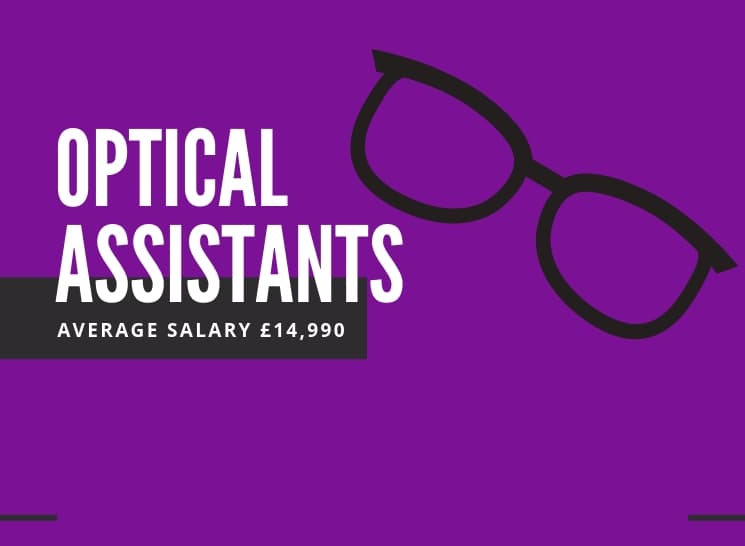 Optical assistants have an important role in maintaining patients vision. Working in private practices or vision care clinics their average salary is £14,990.
Compared to the national average, this is features among the worst paying jobs in the UK. the responsibilities of an optical assistant include:
Greeting patients
Answering questions
Handling phone calls
Responding to correspondence
Booking appointments
Assisting with vision tests
Explaining contact lens care
Healthcare Assistants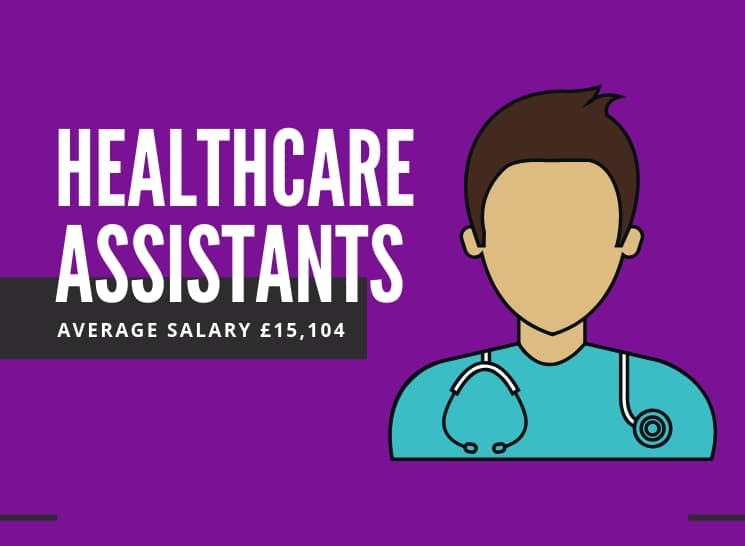 Healthcare assistants are usually found in community larger hospitals. They generally support the work of nurses, doctors and other healthcare professionals.
The duties and responsibilities of a healthcare assistant include:
Feeding, washing and dressing patients
Taking vital signs
Making beds
The maintenance of clinical stock
There are no set entry requirements for healthcare assistant work. Yet, many employers seek candidates with a BTEC or NVQ. The average yearly salary is £15,104
Housekeepers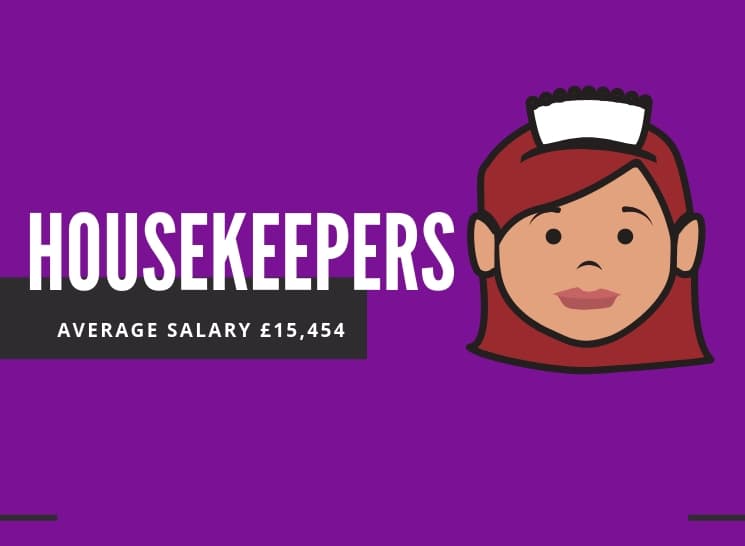 Housekeeping may seem like cleaning. Yet, housekeepers usually work in larger organisations with more responsibilities. Their work areas tend to be hotels, assisted living facilities and private homes.
The duties for housekeepers include:
Cleaning, sweeping and dusting designated areas
Assistant painters and security engineers
Cleaning pavements, including salting and shovelling snow
Waxing and buffing hard floors
Cleaning individual units
Housekeepers can expect to earn an average of £15,454 per year.
Personal support workers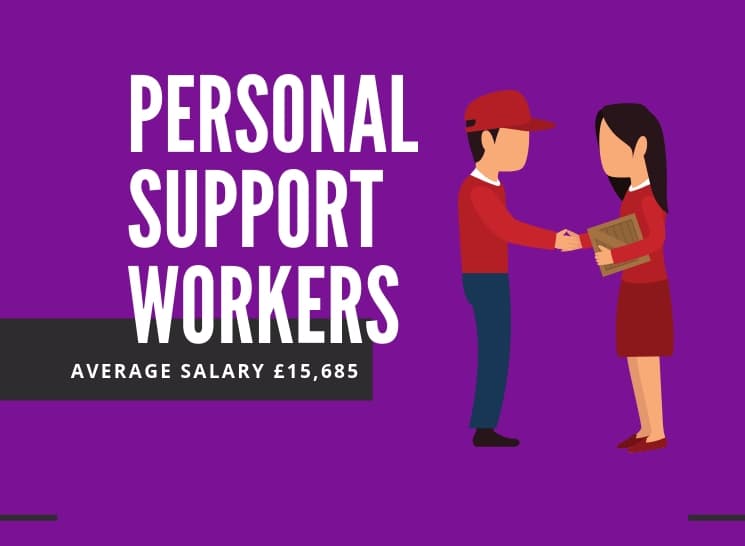 Personal support workers are 'unregulated' health professionals. This is because there are no set guidelines that they should follow. Despite this, they provide a valuable service to vulnerable people.
Personal support workers provide:
Short or long-term care for individuals
Companionship for lonely people
Physical care
Cleaning and laundry
Recreational activities and entertainment
Personal support workers can expect to earn an average of £15,685 per year.
Lifeguards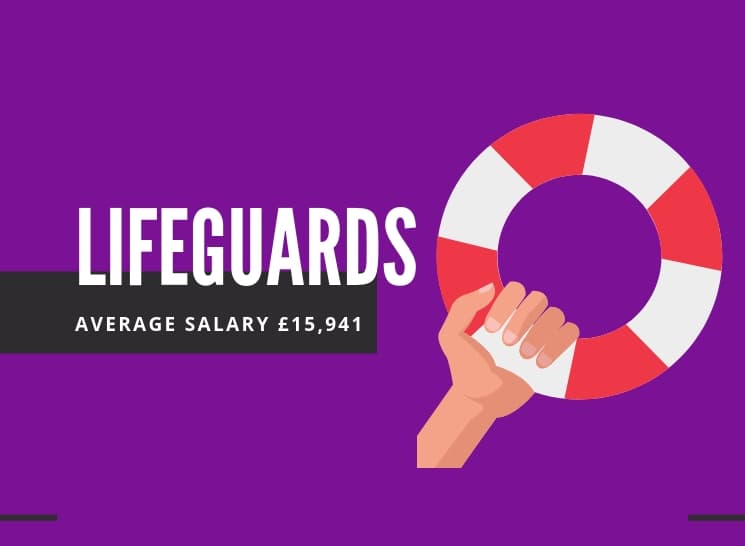 Swimmer safety is the main role of a lifeguard. Often working in swimming pools and beaches, they sure a safe swimming environment for customers and the public.
To work as a lifeguard, employees must be strong swimmers and have experience of CPR. A qualification in AED (Automated External Defibrillator is also required. What's more, the lifeguard's certification must be renewed as soon as it expires.
Lifeguard tasks include:
Providing first aid
Maintaining a safe swimming environment
Ensure swimming spaces are properly maintained
Respond to emergency situations in and around the water.
Despite the level of expertise needed, lifeguards earn on average £15,941 every year.
Porters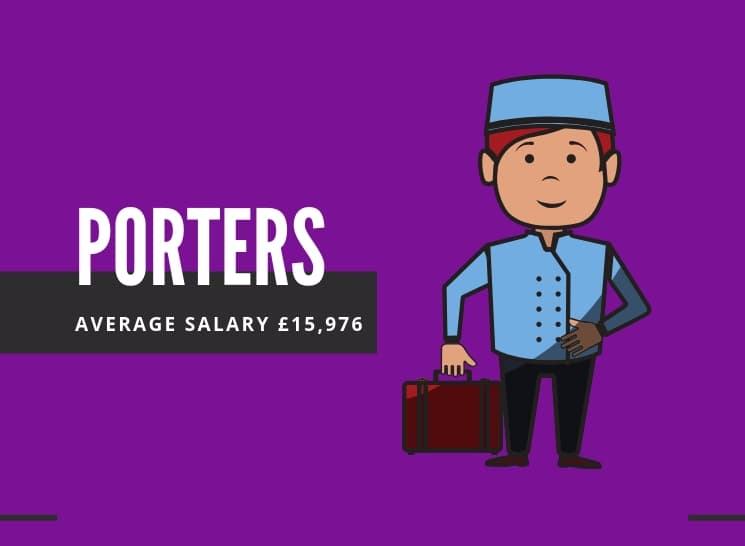 Porters can often be found working in hospitals, retirements communities airports and golf clubs. In hospitals, porters assist in transporting patients between facilities. In country clubs, for example, they are involved in maintenance and janitorial duties.
Many responsibilities include:
Greeting and checking in customers
Moving luggage between rooms and vehicles
Provide customers with directions
Assisting with the transportation of hospital equipment around the building
Porters may not have the lowest paid job, yet their average salary is only £15,976.
Bartenders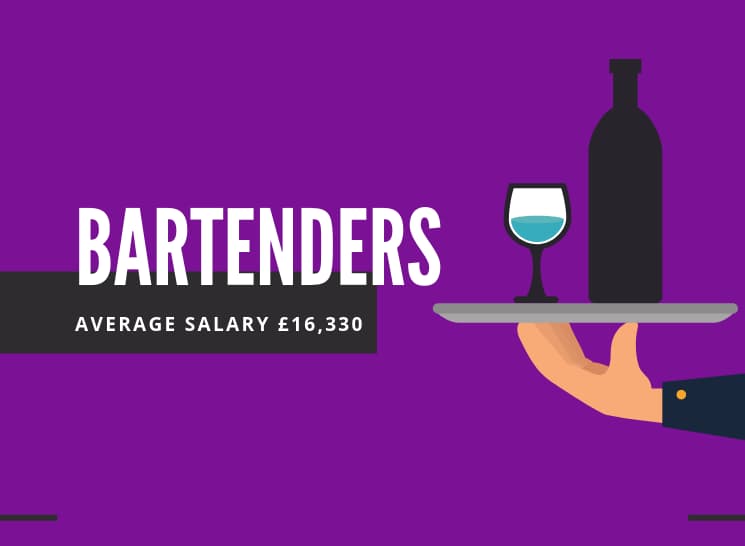 Bartenders are needed year-round in the food and drinks industry. This makes it a useful job for students and young adults. Bartenders should be friendly, approachable and people-pleasing. Multi-tasking and prioritizing their workload is a must-have in the busy bar environment.
Bartender tasks include:
Making and serving drinks to customers
Collect cash and process card payments
Maintain and clean and organised bar area
Collect glasses
Maintain inventory
Take supply deliveries
With tips, overtime and bonuses, bartenders earn an average of £16,330 per year.
Office assistants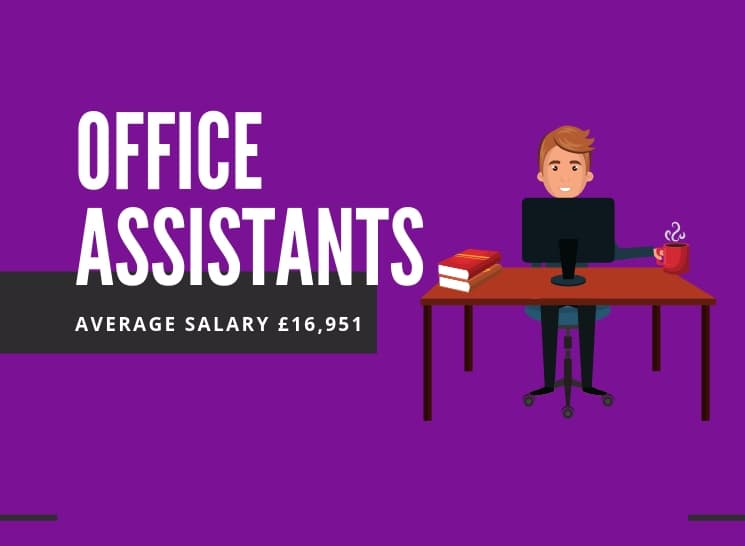 Office assistants are a vital part of the office environment. This is a job that many school leavers look to apply for because of the entry-level nature of the role. The hours worked are typically office hours during the week.
The role of an office assistant is to:
Take incoming phone calls and messages
Carry out filing
Type up memos and meeting notes
Type hand-written notes
Deal with post and deliveries
Assist other office staff
Maintain office supplies
Office assistants earn an average of £16,951 each year. This makes it the last of the worst paying jobs on our list.
Final Thoughts
The worst paying jobs in the UK are often those that require the most effort. With so much hard work involved for so little pay, it can often be disheartening.
In this situation, it would be worth your while to invest in training opportunities. This will not only improve your expertise but your income too.