An Introduction to Personal Loans
When selecting a personal loan that's right for your personal finances, there are numerous characteristics that define one personal loan, from the next. Here's an introduction to the main differences, which we'll explore in more detail throughout this guide.
Every loan features:
A fixed duration of months – Generally personal loans run for between 6 and 60 months; these are known as instalment loans. The one exception is revolving line of credit loans, which function in a similar way to an overdraft facility.
A fixed or variable interest rate – A fixed interest rate will remain the same throughout the period of the loan, whilst a variable interest rate will change as according to a schedule.
A set loan amount – With each monthly repayment made the amount you owe reduces.
APR (Annual Percentage Interest Rate) – This shows you how much the loan will cost – it is the yearly cost that is charged by the financial provider.
Different forms of personal loans
Secured or unsecured
Guaranteed by a guarantor or unguaranteed
Fixed rate or variable rate
Should You Choose a Fixed or Variable Rate Loan?
Generally, fixed interest and variable interest tend to belong to two distinct groups of personal loan products. Variable interest is typically applied to revolving credit, while fixed interest generally applies to instalment loans. For this reason, it's generally not a choice between one or the other, although you should always ensure that you fully understand the interest charges, how they work and what the total cost of your loan will be.
Secured Loan Versus Unsecured Loan
Secured Loans – An Overview
A secured loan requires that you 'tie' an asset to the loan. This acts as security for the lender. Should you default and be unable to repay the loan, this asset will be claimed by your creditor for them to recoup their costs.
This asset may be a vehicle, valuable assets such as jewellery or your home. Secured loans against your vehicle are known as logbook loans (which can provide finance for £250+), while those linked to a property are known as homeowner loans (which typically provide finance for £5,000+).
The Advantages of Secured Loans
Secured loans can provide finance for large amounts – this compares to personal loans that generally only offer finance of up to £25,000
This form of credit can be suitable for those with a poor credit history
The repayment period on a secured loan may be longer than with a traditional personal loan, making this form of credit easier to manage (although longer loan periods do result in larger amounts of interest)
The Disadvantages of Secured finance
There could be fees and charges involved should you choose to repay early
You need to ensure that you keep up with repayments, otherwise, your home, vehicle or other assets may be at risk
Unsecured Loans – An Overview
Unsecured loans describe any type of loan that isn't tied to an asset. This form of personal loan provides finance for between £1,000 and £25,000 and is generally suited to individuals who have at least a fair credit score.
The advantages of Unsecured Loans
Unsecured loans are generally available to a large percentage of people
This form of finance offers flexibility, with the applicant able to select the amount they wish to borrow, over a period of between 6 and 60 months
Some lenders will offer the choice of a loan holiday at the start of the lending period – these periods generally range in time between two and three months
The best interest rates are offered on loans of three to five years, with shorter loan periods attracting relatively higher interest rates
Disadvantages of Unsecured Loans
Once agreed, products offer limited flexibility and re-negotiating terms may be difficult with some lenders
The best personal loan deals are only available for those with excellent credit ratings
Guarantor Loans
Guarantor loans involve you, as the loan applicant, and a guarantor, someone who is creditworthy who can guarantee the loan should you fall into arrears and be unable to meet your financial obligation. Anyone can be a guarantor, although given the level of trust required it is generally someone close to the applicant. The guarantor must also have a good credit history.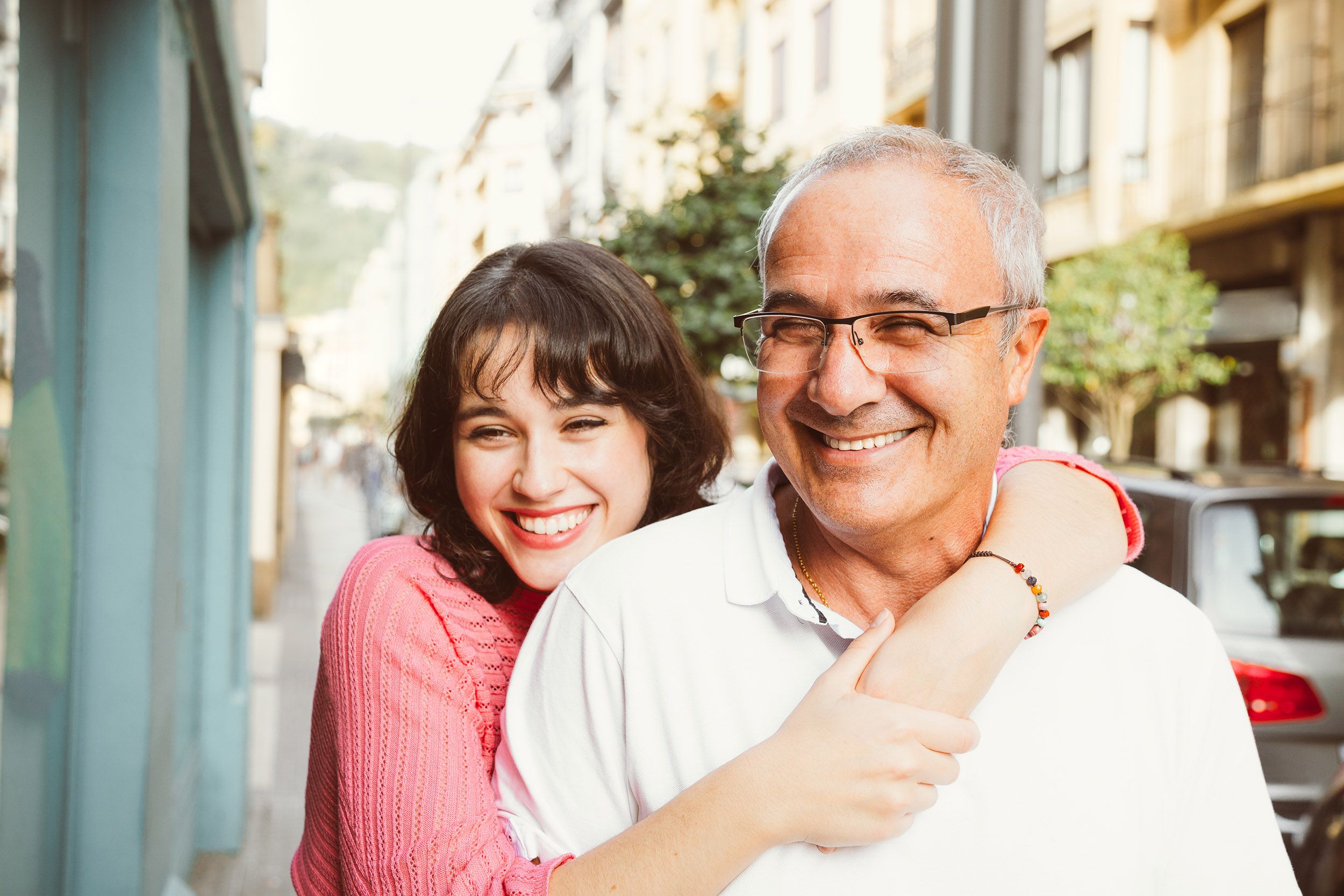 Advantages of Guarantor Loans
Guarantor loans are ideal for those who have a less than perfect credit rating
These types of personal loan tend to be cheaper than payday loans and cheque cashing finance
Guarantor loans aren't generally linked to assets, such as the guarantor's home
This form of finance can improve the applicant's credit rating if they keep up with all of the repayments
Disadvantages of Guarantor Loans
Guarantor loans can be difficult to set up
Applicants may find it difficult to find someone who'll act as a guarantor
Guarantor loans can cause serious relationship problems if the applicant doesn't keep to their repayment commitments
Types of Personal Loan – A Side by Side Comparison
| | | | | |
| --- | --- | --- | --- | --- |
| TYPES OF PERSONAL LOAN | TYPICAL LENGTH OF LOAN | AMOUNT THAT CAN BE BORROWED | SECURED AGAINST AN ASSET? | WILL YOU BE CREDIT CHECKED? |
| Logbook loan | 12 months – 5 years | £250 – £50,000 | Yes – secured against your car | No |
| Personal loan | 12 months – 5 years | £1,000 – £25,000 | Not normally | Yes |
| Homeowner loan | 5 years – 25 years | £3,000 – £250,000 | Yes – secured against your home | Yes |
| Line of credit loan | Ongoing | £1,500 – £150,000 | No | Yes |
| Guarantor loan | 12 months – 5 years | £500 – £10,000 | No | Yes |
| Payday loan | 1 month | £80 – £500 | No | Yes |
| Short-term loan | 1 to 6 months | £80 – £500 | No | Yes |
What Type of Personal Loan Is Right for Me?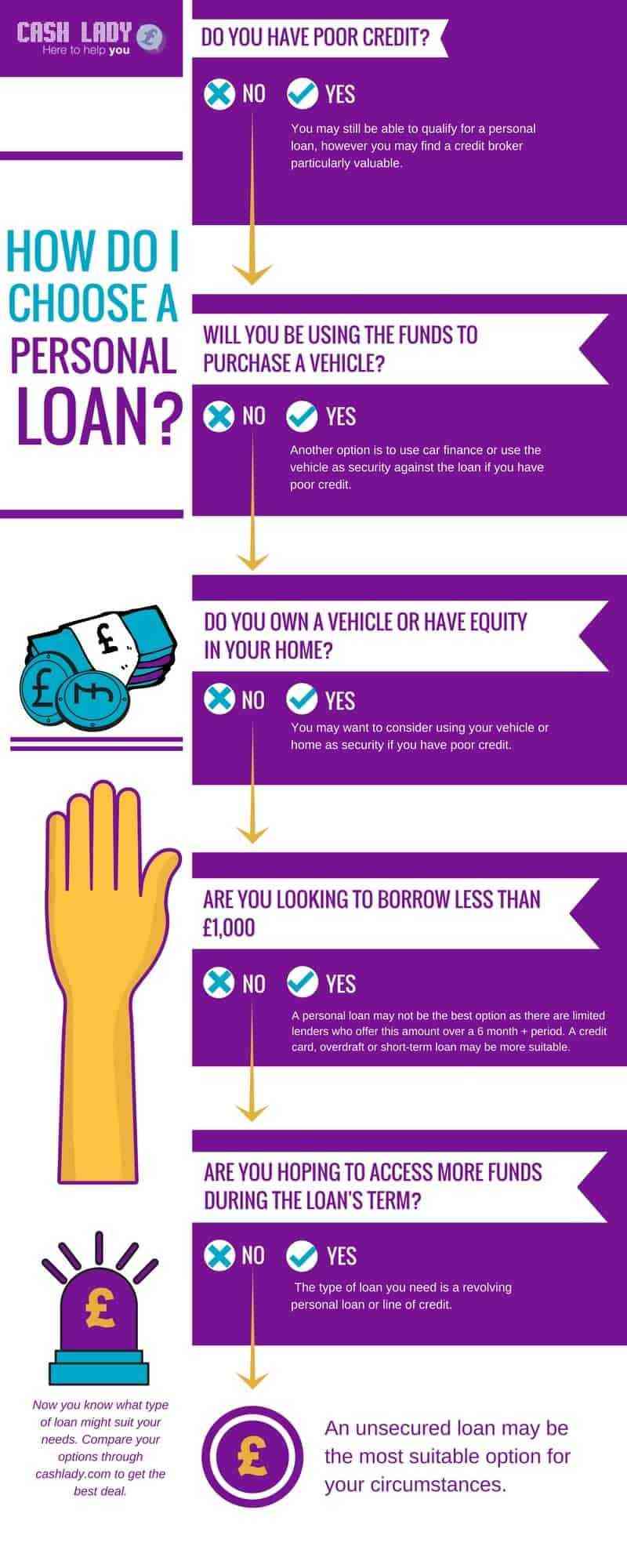 Your Personal Loan – The Next Step
Speak with the CashLady team about whether our network of personal loan lenders can help, read our instant loan FAQs or use our live chat facility.