Is your MOT certificate still valid?
You can book your car in for its MOT up to a month (minus a day) before your MOT expires.
This means that it is possible that you can fail an MOT test, while your car's previous MOT is still valid. If this is the case, you can drive your car away, as long as it meets the minimum roadworthiness standards. If your car does not meet these standards and you take it onto the road, you could be committing a criminal offence.
If your 'old' MOT has expired, you can only take your car to either a pre-booked MOT test or to have the problems that caused your car to fail, fixed. Again, you should ensure that your car still meets the roadworthiness standards.
It is worth double checking that your insurance will still cover you in both of these instances.
Getting your car retested after a failed MOT
You may decide to leave your car at the MOT test centre for it to be repaired. If you do this and it is then retested within 10 working days, you should only need a partial retest, which should be free of charge. If you go somewhere else for the repairs and then take your car back to the test centre within 10 working days, you could be charged for a partial retest.
You may be able to take your car somewhere else for repairs (see above). As mentioned above, ensure that your car meets the minimum standards of roadworthiness.
Sometimes, if you take your car back to the test centre for a partial retest before close of business on the next working day, you will not need to pay again. For example, this could apply if a retest needs to take place on your car's horn or windscreen glass. For a full list of applicable items, take a look here.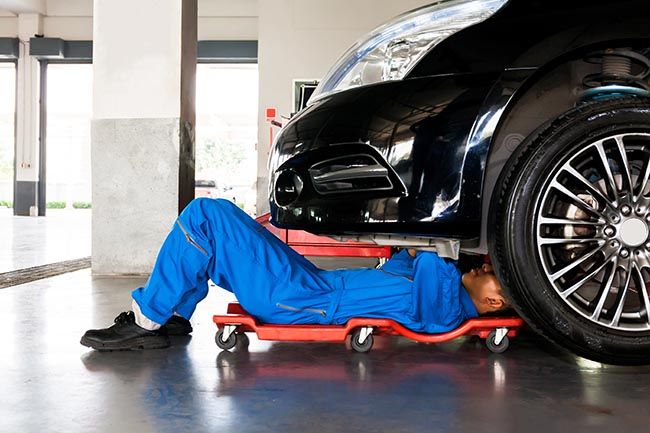 You can appeal your failed MOT
If you think your car has failed its MOT when it should have in fact passed, you can appeal the decision. For more information on how to do this, take a look at the government website.
Make sure you don't fail your MOT for something trivial
According to MoneySavingExpert, nearly 1 in 5 vehicles fail their MOT because of a broken light bulb.
MOT fails for something simple (and avoidable) can be particularly frustrating.
Take a walk around your car and check everything is in good working order.
Check that all of the lights are working.
Is your tyre tread correct? One of the easiest ways to check this is to take a 20p coin and put it into your tyre grooves, sideways on. If the rim on the edge of the coin is not visible, your tyres should be OK. If you can see the rim of the 20p coin, it is probably a good idea to get them checked.
Also, ensure that the tyre pressure is correct.
If you have noticed a problem with your car, such as your brakes feeling strange, you should try to take your car to a mechanic before its MOT.
Paying to repair issues on a failed MOT
Your refusal of MOT certificate should state why your car has a failed MOT and what you will have to have fixed in order for your car to pass its MOT.
Sometimes, these can be simple issues such as a broken headlight or a windscreen wiper not clearing the windscreen properly.
Other times, you could find that costly repairs need to be carried out in order for your car to pass its MOT.
If your car is the only way you can get to work every day, fixing these issues and getting your car back onto the road, is probably going to be a top priority.
If you do not have the spare cash available, you could ask for some help from family or close friends.
If this is not an option, you could consider taking out a short-term loan to cover the cost of the repairs.
Payday loans have been designed for use in emergencies. Some lenders may be able to get the money into your bank account in as little as one hour if you are approved.
Borrowing money through a payday loan is not the best option for everyone. As with any type of financial product, it is vital to ensure that you can comfortably afford to pay back anything that you borrow.