I Need a Short Term Loan or a Payday Loan but Keep Getting Refused
After a rejection, you will likely want to know why you were denied a loan. The most common reasons for loan declines are:
Not passing affordability checks.
Past borrowing history or missed payments
Employment type (e.g. not being in full employment)
Identity verification (not being registered on the electoral or providing a wrong address)
Hard credit check decline (experian, equifax or callcredit)
Existing loan agreements with other lenders (too many existing loans)
Address or bank validation failure (e.g. your bank account details are incorrect or fail verification)
There are many things you can do to try and understand why your loan application was rejected. The very first place to start should be with the lender you applied with.
Speak to the lender to understand why your application was rejected
The first port of call would be to speak to the lender you applied with. Almost all lenders will list a phone number on their website.
Many will give cookie-cutter responses, letting you know you failed their affordability assessments. If this is the case, you may not get more detail about the factors that affected the decision. Lenders use complex algorithms to assess how likely you are to repay your loan.
Some lenders are happy to share more information. The reason behind a loan being declined may be more obvious. Lenders may be able to tell you if you failed the hard credit check, or accidentally provided incorrect information.
Do you Have a Poor Credit Rating?
When you apply for short-term finance, the lender will conduct a hard credit check as part of their decision-making process. A low credit score suggests you are a financial risk and less likely to be able to meet your repayments.
Checking your credit rating should give you insights into why you keep getting denied for finance. There are many options that allow you to check your credit score and review your credit file. What's more, they are completely free of charge. Clear Score and Credit Karma are two such services.
Improving your chance of a loan application being approved
To reduce the risk of having loan applications declined in the future, you can make efforts to improve your chances.
Ensure your Credit File is Up-to-date
When you check your credit file, make sure that it is up to date and accurate. Any incorrect information could negatively affect your credit score.
Fraudulent applications
Look for signs of credit applications you did not make. Make sure that your address details, including previous addresses, are correct.
Electoral Roll
If you are not already on the electoral roll, now is the time to register. This is one of the quickest and easiest ways to improve your credit rating.
Incorrect Information
If you feel there are mistakes on your credit report, contact the relevant credit referencing agency. They can run an investigation, correcting details if they are found to be wrong.
If an organisation refuses to change the information they have provided, but you feel that it is false, you can add a notice of correction with a space to write your own comments.
Improving your Credit Rating
If your credit score is low due to a lack of borrowing history or problems with credit management in the past, you will need to improve your credit rating. Credit repair takes time. There are no instant fixes.
You will need to pay all bills and debt repayments on time. Also, close down any lines of credit, such as credit cards and store cards, that you are no longer using.
Moving house often can have an impact on your credit score, as can being financially associated with someone that has poor credit. You could have a damaged score because you have a joint account or mortgage with someone that has a poor credit rating.
Remember that credit applications can damage your score. Do not apply for any finance unless you are sure that you need it. Before applying for credit, you should make sure that you have a chance of being approved.
Try applying through brokers or loan comparison sites
If you need a loan but beep getting denied, it could be worth turning to broker sites (such as Cash Lady) or comparison sites. They may increase your chance of loan acceptance because your request for funds can be sent to many lenders at the same time without damaging your credit score.
When your application form is sent to a portfolio of lenders, you may get a positive response on a pre-approved basis (however pre-approval does not guarantee acceptance, and is subject to additional checks). These lenders are more likely to offer a loan once you complete the application process through them directly.
Making many separate loan applications can negatively affect your credit score. By using a broker such as Cash Lady, we will carry out a soft credit search (which does not impact your credit score) and send a single application to every lender on our panel at once. When any future lenders check your credit file, they will not see a recent history of failed loan applications.
Use Credit Builder Cards to Rebuild Your Credit
You might want to improve your credit score with a credit builder card.
These cards offer a low credit limit and can be used to make purchases and then pay the balance off at the end of each month. The aim is to demonstrate that you can manage credit and pay back what you borrow, which should result in an improvement in your credit score.
It is important that you make all of your repayments in full and on time however, as failing to do so could result in your credit score actually getting worse.
Credit Cards for Poor Credit are Available
If you have a low credit score, you may still be able to get a credit card. Only get one of these cards if you have the willpower to limit your spending to small amounts, and can repay your debt in full every month.
If you can make small purchases on your credit card, and clear the debt by the end of each month, your credit rating will slowly improve. Read more about these cards here.
Be aware: these cards often come with high interest rates. Borrowing money on these cards can quickly send you into a debt spiral if you do not manage them correctly and pay off the balance.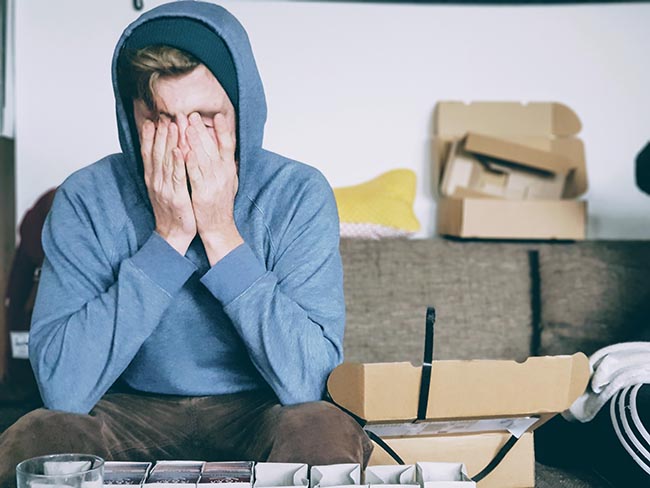 Important things to consider when you need a loan but keep getting declined
Payday loans and short term loans are a high interest credit option. If you can avoid borrowing money, then you should do so. Can you reduce your expenditure elsewhere, to free up the money that you need?
Look into alternative options if you can't get a loan. Borrowing from friends or family members could be an option if you are happy to discuss your financial situation with them.
You should only borrow money if you can afford to make repayments. You should know how and when you will be able to clear your debt.
If you are already struggling financially and finding it hard to repay your debts, taking out another loan can make your debt spiral worse.
Consolidating your loans is sometimes an option. Only do this if it will reduce your monthly repayments to a more manageable level and work out beneficial by reducing the fees you are paying.
Final Thoughts
If you need a loan but have been refused everywhere, there could be many reasons for the decision.
You may not find out exactly why your loan was declined, but you can take steps to avoid the same happening again.
You should check that your credit file is accurate.
Improve your credit score by managing existing credit effectively.
If you still need a payday loan, consider using a broker or comparison site.
Credit expenses
Consider alternatives to payday loans, such as borrowing from family and friends.
If you are in financial difficulty, it is important that you do not borrow more money. You should instead seek advice on debt management from an agency such as Step Change rather than adding to your money problems.