Introduction to Equifax
Equifax was founded in 1899, in the United States of America.
UK credit referencing services have been provided since 1970. This makes Equifax the oldest of the big three credit referencing agencies. The others are Experian, operating since 1996, and Callcredit (since 2000).
Worldwide, Equifax holds records for roughly 800 million consumers.
Providers of credit, including loans, payday loans, guarantor loans, logbook loans and credit cards, can use your Equifax report to check the details of your financial history.
Lenders that use Equifax
As the UK's longest established credit referencing agency, Equifax is used by many lenders. Some will only access an Equifax report, whilst others will also check credit files from Experian, Callcredit or both.
Equifax is one of the credit referencing agencies used by many UK banks including:
Barclays
Halifax & Bank of Scotland
HSBC
Natwest
RBS.
Many stores and credit card providers also run credit checks with Equifax. These include Barclaycard, American Express, Capital One, Santander and Tesco Bank.
If you are taking out a new phone or utility contract with BT, EE, Carphone Warehouse, O2, Vodafone or Virgin then your Equifax file may be checked.
Many high-street banks check your Equifax report before offering you a loan. As do some P2P lenders, such as Zopa and RateSetter.
Some mortgages and car finance agreements may also only be offered subject to a successful Equifax credit check.
Checking your Equifax file
There are several ways that you can check your credit score, or see your full credit report.
Equifax Credit Report & Score
For £7.95 per month, you can receive full access to your credit report. There is a 30-day free trial for new customers.
You will be able to see your credit record in detail. It will show what accounts you have open. It may also show closed or paid accounts, and which lenders have checked your file recently.
This option includes automatic alerts if there are any significant changes to your credit file.
Also included is Equifax WebDetect.
If your personal information is being shared on the internet, you are at risk of becoming a fraud victim. WebDetect can help you to act quickly, by alerting you if your information is shared.
Statutory credit report
For a one-off £2 payment, you can request your statutory credit report. This is a full copy of your credit file. It is sent to you in the post.
Applying for your statutory credit report is cheaper than paying for online access. But, if you can remember to cancel then you will get the same from your free trial.
Yet what if you do not need to check with a specific credit referencing agency, and would like a general overview of your creditworthiness? Then you might like to use Credit Karma instead. This is Callcredit's free service. It provides unlimited access to your file which is updated every 30 days.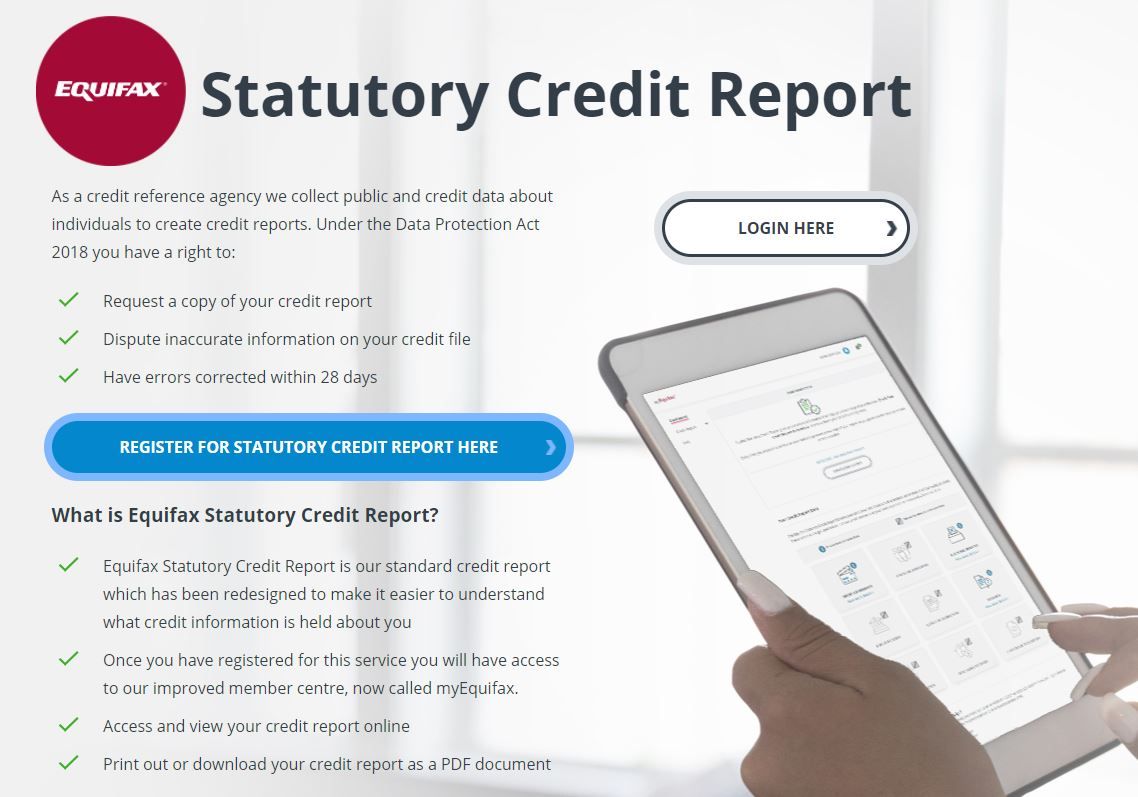 What lenders can use Equifax for
Lenders can use Equifax to check your credit file
Your credit file shows lenders what you are like as a borrower.
Lenders can check if you have open credit accounts already. They can also see if you are up to date on your payments, or if you are falling behind.
Your credit report helps lenders to assess how much of a risk you are. This may affect the amount of credit that you are approved for if any.
Your credit score could also affect the interest rate that you are offered.
Lenders can use Equifax for identity checks
If a company needs to verify your age or identity, they can do this through Equifax.
They can also verify bank account details, to make sure that a Direct Debit is being set up correctly.
Your bank details may also be verified if you are buying something on credit.
Lenders can use Equifax for consumer data
Businesses can purchase consumer information. Types of data include records of spending habits and behaviours. This is alongside geographic and demographic statistics.
Data can be used for marketing. Companies can better target their ideal consumers, using the insights that Equifax provides.
Facts about you are recorded almost every day. Your spending habits feature on your bank statements. Use of debit and credit cards can be traced. Also, you might offer information voluntarily, as you share things online.
Information is collected by Equifax, where it can be sold under the label of Consumer Data.
Lenders can use Equifax for debt recovery information
The financial data that Equifax holds can help with debt recovery.
If you cannot afford to make your repayments then your creditors may run a check through Equifax.
The credit referencing agency may have insights into your income and your debt levels. This data can prove to lenders that you cannot afford to pay.
Also, your creditors may be able to offer a fair repayment plan if they know that you are in financial difficulty.
Information held by Equifax can be used to check if you are defaulting on your payments elsewhere, or only with one creditor. It can also show if you are applying for more credit elsewhere.
Equifax can make a prediction, based on your current behaviour. They can tell lenders if you might end up filing for bankruptcy, or become insolvent as a result of your debt levels.
Creditors might use an Equifax prediction to decide if they should continue chasing your debt, or if they would benefit from selling it on.
Other Equifax products and services Identity Watch Pro
Identity Watch Pro monitors the World Wide Web on your behalf. This service is also known as WebDetect.
What if your personal details such as your driving license number or National Insurance number are published online? WebDetect will send a notification.
Equifax also monitors websites for the presence of your email addresses, phone numbers, bank details or card numbers.
If you are notified, you can act quickly. Blocking cards, or notifying your bank, could protect you from fraud.
Summary: Equifax
Equifax is the UK's oldest credit referencing agency. Across the globe, the agency holds records for around 800 million consumers. These records can be accessed with a consumer's permission.
Your Equifax credit is valuable to lenders. They can use the data to assess how much of a risk you represent as a borrower.
If you have a poor credit rating and a history of missing payments, you are less likely to be approved for credit. People with good credit scores are more likely to be approved, and will usually be offered the best rates.
Many UK banks use Equifax credit reports as a part of their process. As do phone and utility companies, credit card providers and loan providers.
Equifax is used by some P2P lenders, including RateSetter and Zopa.
You can access your own credit report on a 30-day free trial, or by paying £14.95 per month. This includes an automatic update every 30 days so that you can check your latest credit score.
Alternatively, you have the option to pay £2 for a statutory credit report on paper.
Consumers can also sign up to WebDetect or Identity Watch Pro. This service monitors the web. It looks for signs that your personal data, such as bank account or credit card information, is being shared publicly. You will receive alerts if there are potential fraud risks so that you can take action.
Businesses can use the information held by Equifax for identity verification. They can also use it to verify bank details or to check your financial situation if you are having trouble keeping up with payments.
Equifax can also provide businesses with other consumer data. This might include information about spending habits or borrowing behaviours in general.
Your Equifax credit file can be accessed with your permission. Many lenders will need you to provide this permission before they make a loan or credit card offer.