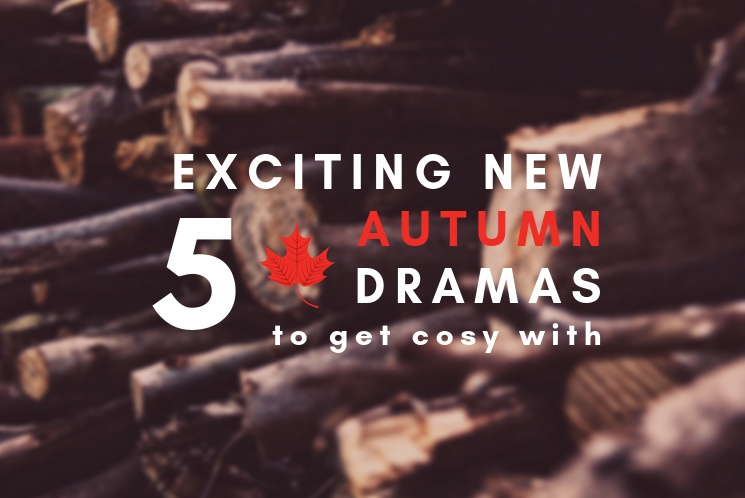 The nights are getting longer, which can mean only one thing – it's time to draw the curtains, get cosy and tuck into the exciting new autumn dramas hitting our screens.
From BBC1's stylish, slick and hugely popular Killing Eve, to Netflix's off the wall star-studded drama Manic, here we look at the five new autumn dramas that are well worth staying in for.
New autumn dramas
Black Earth Rising, BBC2
Black Earth Rising is created by Hugo Blick, who also brought us brilliant thrillers, The Shadow Line and The Honourable Woman.
This politically charged drama follows Kate Ashby who was rescued as a child from the aftermath of the Rwandan genocide and brought to the UK. The dark shadow of her past, however, proves impossible to escape.
Full of twists turns and an enormous cast, this is a serious drama that doesn't shy away from big issues. One to watch with your full attention.
Catch up on Black Earth Rising on iPlayer.
Killing Eve, BBC1
A sexy spy drama from Phoebe Waller Bridge, writer of BBC3's Fleabag, Killing Eve is produced by BBC America and stars Sandra Oh alongside Jodie Comer (Thirteen, Doctor Foster, The White Princess).
The eight-part drama is currently airing weekly, but the great news is that it's all available to watch as a box set on BBC iPlayer – trust us, you're going to want to binge on this one.
Based on the novel Codename Villanelle by Luke Jennings, Sandra Oh plays Eve Polastri, an MI5 agent who becomes obsessed with tracking down a psychopathic female assassin, Villanelle (Jodie Comer.)
High fashion, dramatic international backdrops and brilliant acting – this is one autumn drama that you certainly don't want to miss.
Currently airing on BBC1 every Saturday night, or binge the full season on iPlayer.
The Romanoffs, Amazon Prime
Hotly anticipated big-budget drama from the creator of Mad Men comes The Romanoffs.
Featuring a star-packed cast, including Madmen cast Christina Hendricks (Dawn), John Slattery (Roger Sterling) and Jay R Ferguson (Stan Rizzo,) the show focuses on the famous Romanoff family.
Each episode focuses on certain present-day characters who claim to be descendants of the Russian family – the last to rule Russia, until 1917 when the Bolsheviks seized power and the entire family met a terrible end.
Conspiracy theories have long existed, claiming that a daughter survived the execution although this has since been proved false.
In the meantime, however, there were many imposters who claimed to be her – most famously, a woman called Anna Anderson, whose DNA, collected upon her death, was found to bear no relation to skeletons believed to belong to the family.
The Romanoffs is shown weekly on Amazon Prime. Catch up with the first two episodes, which have already aired, and then watch episode three from 19 October.
Maniac, Netflix
Another binge-worthy Autumn drama, Manic stars Hollywood favourites Emma Stone and Jonah Hill plus a host of other big names.
It follows two strangers who are drawn to a mysterious pharmaceutical trial that will, they believe, solve all of their problems, for good.
With stunning set design, wonderful acting and an interesting plotline that crosses time and space, this is a zany love story set in a fictional world that's well worth a watch.
Full season available to watch on Netflix.
Vanity Fair, ITV
It wouldn't be Autumn without a brand-new period drama hitting our screens and this one features some of the UK's brightest stars.
Olivia Cooke, Michael Palin, Martin Clunes and Suranne Jones are among the cast in this adaption of the famous William Makepeace Thackeray's novel, Vanity Fair.
Created by ITV and Amazon, the drama has finished airing every week, ending to critical with  the Guardian hailing the adaptation as, 'lavish, lively, intelligent and funny, never moving at less than a full gallop.'
The plot follows the lives of main characters Becky Sharp and Emmy Sedley as they navigate their friends and family during and after the Napoleonic Wars.
The series has finished airing but don't worry you can catch up on ITV Player.
Watch Vanity Fair here
New Autumn Dramas: Final Thoughts
There's a great mix of TV Shows for you to dig in to during the season of hygge. With politics, family affairs, assassinations and psychological adventures into the unknown, there's something for everyone. After a long, chilly day it's the perfect excuse to indulge in a little escapism.