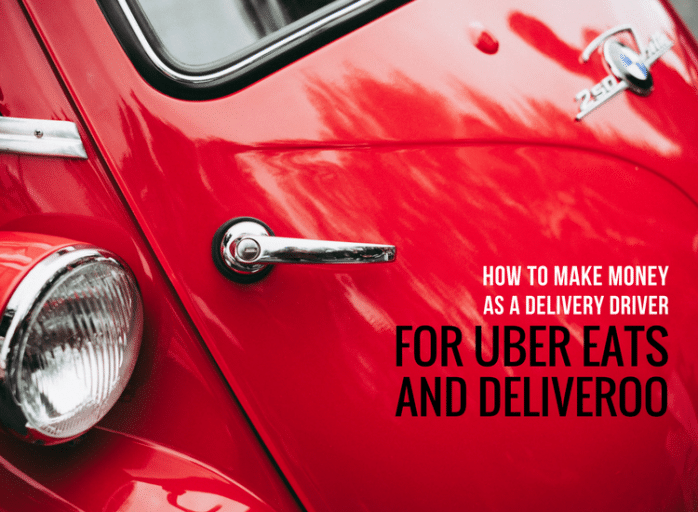 If you want to work as a delivery driver, you could make some extra income by working with UberEats and Deliveroo
.
CashLady
takes a closer look at UberEats and Deliveroo to find out how you could make money with them.
Deliveroo delivers local restaurant food to homes and businesses, in various towns and cities throughout the UK
.
Customers can order food from a wide range of chains and independent restaurants, through an app or Deliveroo's website
.
Deliveroo is currently the UK market leader for this type of food delivery.
Deliveroo's delivery drivers transport food on bicycles and scooters.
As a Deliveroo driver, you will be self-employed. This means that you can choose when you want to work, making it a great way to earn money in your spare time. You are able to manage your own orders via the Deliveroo rider app (available for iOS and Android).
Customers pay for their orders via the Deliveroo website/app, so you do not have to worry about dealing with cash
. You are also able to keep any tips that you make, should a customer give you a cash tip.
As you are on a bike, you will only be working in a small area.
Deliveroo says that you could receive fees of up to £16 per hour, depending on where you work.
Deliveroo offers you the opportunity to make money during hours which suit you.
They also have various perks available to their riders, including Apple discounts and money off in some restaurants
.
Riders can also become involved in the Deliveroo community and attend a wide range of events if they wish
.
In order to
work with Deliveroo, you will need a bicycle or scooter/motorbike, with the relevant safety equipment
. You will also
require
a Smartphone that is an iPhone 4s or above or an Android 4.3 or above, as well as the right to work in the UK.
If you
apply
to become a rider, you will need to choose your city. When you do this, you should be able to see your anticipated earnings and how they
are broken
down.
Uber is best known for its low-cost taxis, booked via its app.
Launched in London in June 2016, UberEats is a food delivery company which delivers breakfast, lunch and dinner from a wide range of restaurants throughout London
.
UberEats is the main competitor to Deliveroo in London.
UberEats delivery drivers are also self-employed.
Working with UberEats should give you the flexibility to work the hours you want, when you want, making it a great way to earn some extra money
.
You can work for a few hours in the mornings,
just
on weekends or every night, if you choose.
Just
like Deliveroo, UberEats delivery drivers also work on scooters or bicycles.
If you have a bike or scooter, UberEats offers a flexible way to make money on your terms. Whether you want to work a few hours every day or
just
in your spare time at the weekend.
Unlike Deliveroo, UberEats is currently only in London in the UK.
Between deliveries, your time is your own.
If you want to ride your scooter to deliver with UberEats, you must be at least 18 years old, have a driver's licence and insurance
. Also, you should be
legally
able to work in the UK and be able to lift 15kgs.
To ride your bicycle as an UberEats delivery driver, you must be at least 18 years old, be
legally
able to work in the UK and be able to lift 15kgs
.
Working with Deliveroo or UberEats can be a good way to make some extra money in your free time.
If you already have a bicycle or a scooter, you could use it to make deliveries for both companies. Providing it meets any
minimum
road safety requirements.
Also, you will be self-employed when you are working as a delivery driver with Deliveroo and UberEats.
Some of the negative aspects of being self-employed are that you do not have the same sick pay or holiday pay rights as an employed person
. Yet, both Deliveroo and UberEats offer flexible working opportunities. This means you can work during hours which suit your lifestyle.
Deliveroo offers its riders the opportunity to be part of an active community. As well as discounts in various restaurants you can also gain them cinemas and retailers.
Deliveroo operates throughout many UK towns and cities. UberEats is currently only operating in London.
Working as a delivery driver can help you to earn some extra money.
Unlike the requirements for becoming an Uber driver, you do not need a Private Hire Vehicle licence when you are a bike or scooter delivery driver
. Something which can sometimes be time-consuming and costly.
Neither will you need to worry about taking out more expensive business insurance for your car, as you can work on your bike or scooter
.
Many people also enjoy the opportunity to ride a bicycle as a way to earn money.