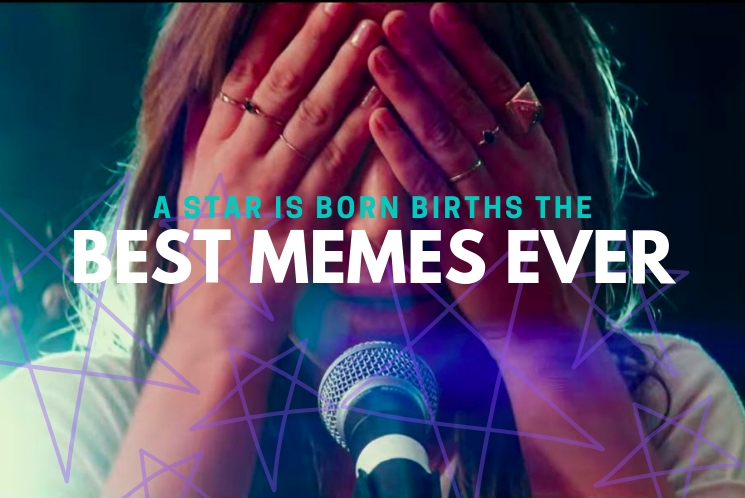 The hot new film, A Star is Born, has spawned some of the best internet memes ever.
Featuring Lady Gaga and Bradley Cooper, the movie, released earlier this month, is already a box office smash that's receiving rave reviews.
It is, however, the memes taking the internet by storm that are making us giggle, also securing its position as one of the most talked about movies of the year.
Whether they're celebrating the amazing musical drama, or lovingly mocking it, here we round up our very favourite A Star is Born Memes.
What's A Star is Born about?
A Star Is Born is an American musical romantic drama film produced and directed by Bradley Cooper.
With Cooper and Lady Gaga taking the lead roles, it's a remake of the 1937 film of the same name and follows a hard-drinking musician who discovers and falls in love with a young singer who he helps make a star.
The fourth remake of the original 1937 film, after the 1954 musical, the 1976 rock musical, and the 2013 Bollywood romance film, this newest version is already receiving critical acclaim.
Featuring sublime performances, heart-wrenching scenes and powerful ballads, it's an autumn release that you really don't want to miss.
Why all the A Star is Born Memes?
We know that A Star is Born is shaping up to be a 2018 blockbuster but why all the internet memes?
The buzz around the film – and the beginning of all those hilarious internet memes – started with the release of the film's first spine-tingling trailer in June.
Dramatic, not to mention romantic, scenes, accompanied by Lady Gaga belting out a series of 'oooooh's' and 'ahhhhhhh's' during the two and a half minute trailer, sent the internet wild.
Social media users everywhere got crafty and created a slew of hilarious A Star is Born memes, all for our enjoyment of course.
Not seen the movie yet? Watch the trailer here.
Our favourite A Star is Born Memes
There's certainly plenty of A Star is Born Memes to choose from, so we've rounded up our favourites below.
Check out Twitter, Pinterest and Tumblr for more or get creative and knock up one of your own.
The, 'how do you make A Star is Born meme,' meme
You know it's a thing when there are even memes about the memes.
We found one of our favourites on Twitter.
Me during a home invasion when the burglar says he doesn't know how to create one of those "hey-what?" A Star is Born memes pic.twitter.com/lrUc7Jr5XR

— R💀ss Miller (@rosstmiller) October 21, 2018
The 'ahhh,'memes
Some of the funniest A Star is Born memes feature that soaring vocal from Lady Gaga, which accompanies the film trailer.
A seriously powerful ballad called 'Shallow,' Lady Gaga performs it on stage with Jackson Maine, marking her first big break.
One of our favourites combines the other internet sensation of recent months, Lindsay Lohan partying hard in Mykonos.
Also found on Twitter, check it out below.
me: can I request a song 🙈
DJ: sure what is it?
me:

— juniorr🦂 (@jayjuniorrr) September 5, 2018
We're also loving this cute meme, which pokes a bit of fun at the song and Lady Gaga's, 'extra,' vocal.
Anyone: h
Me: HAAAAAAAA AH AH AH AHHHHH AHHHHHH HAAA AHH HAAA pic.twitter.com/OE4nZOlaOm

— aboLIZh ICE (@LizlieKnope) September 1, 2018
Finally, this Simpsons version featuring Homer really made us giggle, also found on Twitter.
i just needed to get this one out there pic.twitter.com/FuzWslAwPc

— Terrace House fan account (@tole_cover) September 30, 2018
The, 'I just wanted to take another look at you,' memes
We love this A Star is Born meme from Tumblr, which captures the 'I just wanted to take another look at you,' scene throughout each of the films over the years.
Also featuring in the trailer, this is another scene that has caught meme makers imagination.
Taking a more comic approach to the scene, this, 'A Sea Star is Born,' meme by user montereybayaquarium, also on Tumblr, features a cute seal as the object of Bradley Cooper's affections, instead of Lady Gaga.
It's one of many A Star is Born memes to feature this funny format.
This final meme plays on the fact that another Blockbuster, Venom, was released around the same time as A Star is Born.
— I Maddied a Witch 🔔📕🕯 (@maddiewhittle) October 3, 2018
Final Thoughts
Ultimately this remake has sparked a slew of creativity that you can't help but go along with. Whether you love it or hate it, these memes are here to stay and will join the collective archives of memedom.